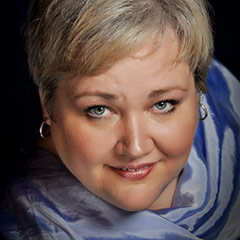 Mezzo-soprano Stephanie Blythe conducts vocal & piano masterclass
Internationally-renowned operatic mezzo-soprano, Stephanie Blythe, visited USC Thornton for a masterclass on October 16th for students of Thornton's Vocal Arts and Keyboard Collaborative Arts programs. The singer, who is regarded as one of the leading artists of her generation, was on campus in anticipation of the October 20th musical tribute to faculty member Alan Smith, chair of Keyboard Studies and director of Keyboard Collaborative Arts. Blythe and Smith have enjoyed a long professional collaboration and personal friendship.
At the masterclass, Blythe coached three Vocal Arts graduate students: mezzo-soprano Kristin Erbst, tenor Justin Su'esu'e, and mezzo-soprano Lesley Baird; accompanied, in turn, by pianists Robert Blake, Chelsey Padilla, and Jasper Jimenez. This semester, USC Thornton Vocal Arts and Opera program will host masterclasses with noted pianist, accompanist, and alumnus Martin Katz ('66) on November 6, as well as soprano and alumna Angela Meade on November 11 (MM '04).