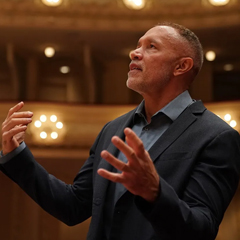 Michael Abels interviewed on TODAY show
Award-winning composer and USC Thornton Composition program alum Michael Abels ('84) was featured in a Today Show segment about how he's breaking down barriers in Hollywood. The segment detailed Abels' career from when he started working with director Jordan Peele on the horror hit Get Out to his involvement with the Composers Diversity Collective and his latest project with world-renowned artist, singer-songwriter and historian Rhiannon Giddens.

When asked why there aren't more people of color composing music, Abels said, "The shortest answer is access. First of all, access to education, but also there's access to opportunity. So, to help with that, I co-founded the Composers Diversity Collective. It's not only just good for the soul, but good for the box office and good for creativity.