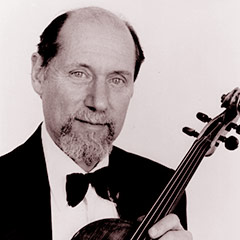 Michael Tree, violist of the Guarneri Quartet, dies at 84
Violist Michael Tree, a founding member of the Guarneri Quartet, died on March 30 in New York City at the age of 84. The acclaimed musician joined the USC Thornton Strings faculty in the fall of 2014 and taught at the school for three semesters.
Initially trained as a violinist, it has been said that Tree's role as violist with the renowned Guarneri Quartet was decided with a coin toss. Tree remained with the groundbreaking ensemble from its founding in 1964 at the Marlboro Music Festival until the quartet disbanded in 2009, regularly performing more than 200 concerts each year around the globe. Tree also recorded more than 80 chamber music works for the Columbia, RCA, Philips, Arabesque, Nonesuch and Vanguard labels.
In his later years, Tree develop a thriving teaching practice at the Curtis Institute of Music, his alma mater, as well as the Manhattan School of Music, the Juilliard School, Bard College Conservatory of Music, the University of Maryland, and USC, often switching between the violin and viola while teaching and performing. Among his viola students were Karen Dreyfus, now director of chamber music at USC Thornton, and faculty member Che-Yen Chen.
"Someone once said that, 'Teaching is the art of assisting discovery,'" Tree remarked on his appointment at Thornton in 2014. "I think that is very true, and that puts the responsibility in our hands.'"
Tree is survived by his wife of 51 years and two children.