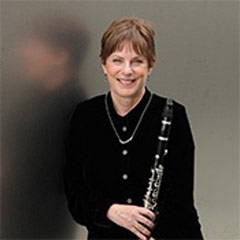 Michele Zukovsky, principal Philharmonic clarinetist and USC Thornton faculty, to retire from orchestra
Michele Zukovsky, principal clarinetist of the Los Angeles Philharmonic and a member of the USC Thornton Winds and Percussion faculty, will retire from the L.A. Phil at the end of 2015. Zukovsky joined the orchestra in 1961 at the age of 18 and has performed with the group for 54 years.
Early in her tenure, Zukovsky played alongside her father, the late Kalman Bloch, who served as principal clarinetist for over four decades. The longest serving member of the orchestra, Zukovsky went on to perform with the L.A. Phil under five different music directors.
Zukovsky will retire from the orchestra in December of this year, but will continue on the Winds and Percussion faculty of USC Thornton.