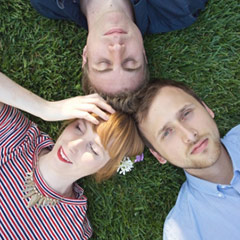 Moonchild follows album release with national tour
Moonchild, a Los Angeles based neo-R&B triad, will set off on a national tour this fall for their recent album Little Ghost, which was released on Sept. 6. Jazz Studies alumni Amber Navran ('12), Max Bryk ('11) and Andris Mattson ('13) formed Moonchild in 2012 and have released several projects since. Moonchild will kick off their tour in Phoenix on Sept. 24, and close with a final show in San Diego on Nov. 16. Catch them in Los Angeles at the Fonda Theatre on Nov. 14.
To celebrate the album release and the start of their tour, Moonchild will perform at Amoeba Music on Sept. 18 at 6:00 p.m. Admission is free and all ages are welcome. Following the show, Moonchild will be signing autographs in-store.