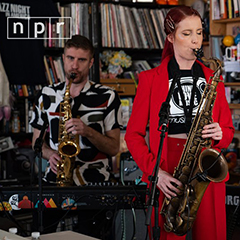 Moonchild makes NPR Tiny Desk debut
USC Thornton alumni trio Moonchild made their debut on NPR's Tiny Desk series this week, performing two songs from their new album, Little Ghost, and one from their previous album, Voyager. With their unique blend of soul, jazz and R&B, the group pulled out all the stops for their set, bringing in additional percussion and backup singers, and taking up an impressive rotation of instruments, including flutes, flugelhorns and ukuleles.
The three Jazz Studies alumni, Amber Navran (BM '12), Max Bryk (BM '11) and Andris Mattson (BM '13), met while studying at Thornton, and formed Moonchild in 2012. They recently completed a national tour following the September release of their latest album, Little Ghost.
Watch Moonchild's full performance here.