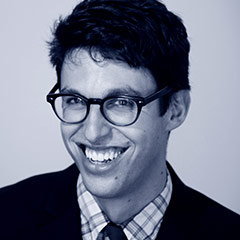 Nate Sloan featured in "All Things Considered" piece
Nate Sloan, a new member of the USC Thornton Musicology faculty, was recently featured by NPR's All Things Considered as part of their "American Anthem" series, exploring the roots of international soccer's favorite sports anthem, "Seven Nation Army." The 2003 song, by The White Stripes, features a catchy electric guitar riff that has become a familiar chant at athletic events the world over, from the World Cup to the NHL.
"It's a folk melody," explained Sloan, who is also co-host of the podcast Switched On Pop. "The riff has been deracinated and transformed into this instantly translatable chant."
Sloan, who will begin teaching at Thornton in the Fall, researches jazz, Tin Pan Alley, and pop music. He contributed a chapter on Gershwin and instrumental jazz in the forthcoming Cambridge Companion to George Gershwin.