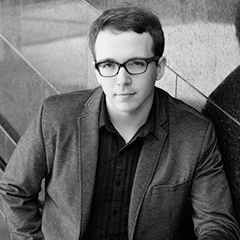 Nicholas Bentz wins first prize at Tribeca New Music's Young Composer Competition
USC Thornton Composition master's student Nicholas Bentz was announced as the first prize winner of the Tribeca New Music 2020 Young Composer Competition in Division 1, for ages 22-35. Bentz's winning piece is titled "Glimpse," a quartet for clarinet, violin, cello, and piano. In addition to a monetary award, "Glimpse" will be performed at the Tribeca New Music 2020 Festival in New York City.
Bentz is currently studying at USC Thornton under Composition faculty member Ted Hearne, and is a composition teaching artist fellow with the Los Angeles Chamber Orchestra. His most recent orchestra piece, "A Cosmos in Stone, Respawning," was awarded the Sadye J. Moss Prize from USC.