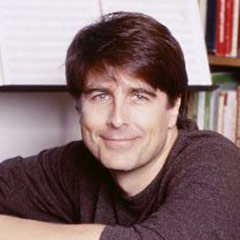 Oscar-Nominated composer Thomas Newman interviewed by KUSC
KUSC host Jim Svejda recently sat down for an interview with noted film composer and USC Thornton Board of Councilors member Thomas Newman, who has received his 13th Academy Award nomination for his score for the 2015 film "Bridge of Spies." In the interview, which has been released as a podcast on the KUSC website, Newman discussed his working relationship with director Steven Spielberg and the process of finding a musical language for his film projects.
The interview is just one of many Svejda has conducted with Thornton faculty, alumni, and friends, including Composition chair Donald Crockett, mezzo-soprano and alumna Marilyn Horne, and honorable alumnus John Williams. The entire archive of interviews is available for streaming on the KUSC website.