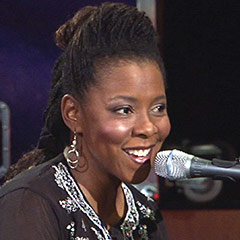 Patrice Rushen featured in Billboard Top 5 single
Patrice Rushen, chair of USC Thornton's Popular Music program, is featured as keyboardist and vocalist on the new single, "As You Are," which made Billboard's list of "Top 5 Hot Singles." The track, by vocalist Lori Jenaire and producer/arranger "Ready" Freddie Washington, is a remake of Pharoah Sanders' 1978 R&B classic and features drummer James Gadson and pianist Aaron Lindsey.
Rushen is a GRAMMY Award-nominated musician and musical director who has performed with legendary artists, including Stevie Wonder, Herbie Hancock, Prince, Nancy Wilson, Sheena Easton, Carlos Santana, and Freddie Hubbard. She found success with a signature fusion of jazz, pop and R&B sounds.
Jenaire's "As You Are" single was produced in support of the American Autoimmune Related Diseases Association's #25for25 campaign and 25 cents from the sale of each single will be donated to the organization.