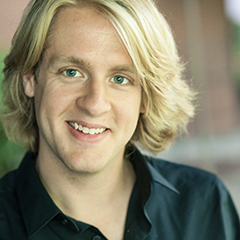 Patrick O'Malley premieres concerto with Ft. Wayne Philharmonic
USC Thornton Composition program alumnus Patrick O'Malley (MM '15, DMA '19) will premiere a concerto piece at the Fort Wayne Philharmonic Embassy Theater in Ft. Wayne, IN at 7:30 p.m. on Oct. 29. O'Malley's "Viola Concerto" will be conducted by Andrew Constantine and performed by violist Brett Deubner. The Ft. Wayne Philharmonic commissioned the piece to the Fort Wayne native. "Carmina Burana is a huge crowd-pleasing piece, so I'm excited to be on the opening half of this concert," O'Malley said.
The program will celebrate love, humor, nature and joys of the tavern, also featuring Leonard Bernstein's "Dance Episodes from On the Town" and Carl Orff's "Carmina Burana". To buy tickets, click here.