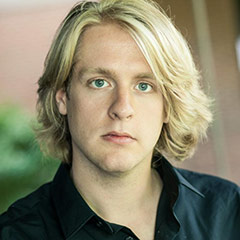 Patrick O'Malley wins Sioux City's Composer of the Year Award
Patrick O'Malley (MM '15), a doctoral candidate in the USC Thornton Composition program, was recently selected as the Sioux City Symphony Orchestra's Composer of the Year for 2018. He earned the title with Loneliness in a Beautiful Place, a string work that also won the 2017 ASCAP Morton Gould Young Composer Award. O'Malley will travel to Sioux City, Iowa next week for rehearsals and outreach events with the orchestra, premiering the orchestral version of his piece with the ensemble in concert on February 10th.
Thornton Composition alumni Emily Cooley (MM '14) and Saad Haddad (BM '14) have also won the Sioux City Composer of the Year title in past years.