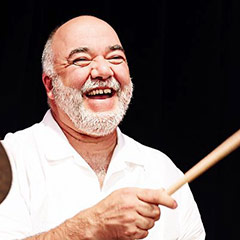 Peter Erskine quoted in LA Times article about "La La Land"
Peter Erskine, legendary jazz drummer and director of Drumset Studies at USC Thornton, was recently featured in a Los Angeles Times article about his work as a session musician for the award-winning film, La La Land. The film explores a musician's crisis of conscience about performing music simply to earn a paycheck.
"I look at every playing opportunity as a blessing not a curse," said Erskine. "Every playing opportunity informs the next one. You might learn something profound about just how to work with other musicians, or what to do when a song starts to fall apart on the bandstand."
While Erskine has multiple GRAMMYs under his belt, he also credits his session work on films such as Austin Powers: The Spy Who Shagged Me, Miss Congeniality 2: Armed and Fabulous, and Cats & Dogs: The Revenge of Kitty Galore, with helping him to pay the bills.