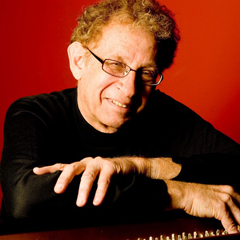 Pianist Daniel Pollack profiled for his Lalo Schifrin collaboration
The Huffington Post recently profiled pianist Daniel Pollack of the USC Thornton Keyboard Studies faculty in reference to his February premiere of an original work by composer Lalo Schifrin. The piece, The Malambo Con Brio, is the culmination of a personal and professional collaboration between Pollack and Schifrin that began in 1980. Written specifically for Pollack, the piece was premiered by the pianist at his sold-out February 21st recital at USC's Alfred Newman Recital Hall.
Stylistically, The Malambo Con Brio is a malambo, derived from an Argentinean tradition in which two men compete, often fiercely, in dance. Jennifer Havenner of the Huffington Post described the spirited work as "masculine, unpredictable and aggressive," and "unsettling in the best possible way."
On the February 21st program, Pollack also performed three works by Chopin – the Sonata No.2 in B-flat minor, Op. 35, Nocturne in D-flat major Op. 27, No. 2, and Polonaise Fantaisie in A-flat major, Op. 61 – as well as Liszt's Funerailles from Harmonies Poétiques et Religieuses, Ricercare and Toccata from Menotti's opera, The Old Maid and the Thief, and Prokofiev's Sonata No. 7 Op. 83.
A acclaimed soloist and prizewinner at the first International Tchaikovsky Piano Competition in 1958, Pollack has taught at USC Thornton for over 40 years. He plans to premiere another original composition by Schifrin in the near future.