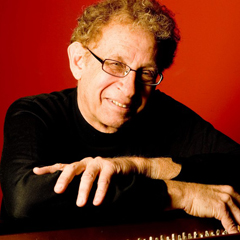 Pianist Daniel Pollack receives the first Ambassador of Cultural Forum honor in Russia
Throughout his career, USC Thornton Keyboard Studies faculty member Daniel Pollack has been working to bring together the cultures of Russia and the United States. In December, the world renowned pianist was awarded the honorary diploma of Ambassador of Cultural Forum at the Saint Petersburg International Cultural Forum. He is the first person to receive this honor.
The Cultural Forum brings together leaders from several international music festivals to promote meaningful cross-cultural connections. Upon receiving his award, Pollack stated, "Perhaps, the main thing in our lives is communication, exchange of experience and feelings, which is so [easy] to lose in the contemporary society. Music can really unite people, in spite of their language, background and location."
Pollack also presented a recital at the Concert Hall of the famed Mariinsky Theatre, at the invitation of the Cultural Forum, performing works by Chopin, Schumann, Liszt, Menotti, and Prokofiev.
No stranger to American-Russian relations, Pollack was a prizewinner at the historic International Tchaikovsky Competition in Moscow in 1958. He was also the first American artist to record on the former Soviet Union's Melodya label. The subsequent recordings were recently remastered into the album "Daniel Pollack, Pianist: 1958 and 1961 – The Legendary Moscow Recordings."