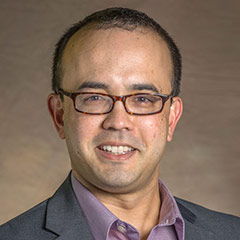 Pianist Derek Polischuk releases two albums, looks ahead to book launch
Pianist and USC Thornton alumnus Derek Polischuk (BM '01, DMA '06, Piano) has recently released two albums on the Blue Griffin label. It's About Time, featuring trombonist Ava Ordman, includes music by female composers Andrea Clearfield, Lauren Bernofsky, Joelle Wallach, Karen Thomas, Ida Gotkovsky, Elizabeth Raum and Barbara York, while Anxiety Attack, with soprano Melanie Helton, includes Schumann's Dichterliebe as well as Craigslistlieder by Gabriel Kahane.
Polischuk, who serves as Director of Piano Pedagogy at the Michigan State University College of Music, founded an annual piano festival for students on the autism spectrum, in 2016. Each July, Celebrating the Spectrum welcomes young pianists to the Michigan State campus for a week of concerts, activities, and training with graduate-student mentors.
This December, Polischuk will release a new book, Transformational Piano Teaching: Mentoring Students from All Walks of Life (Oxford University Press).