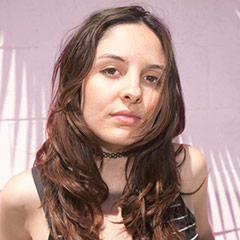 Pop alumna Maddie Ross profiled in "Billboard"
USC Thornton Popular Music alumna Maddie Ross ('14) is the focus of a feature profile in Billboard, which explores her innovative and entrepreneurial approach to music-making. Placing her recent single, "You're Still My Sugar," among "the best rock songs released this year," the article survey's Ross's creative process, her podcast, coming out as queer, and the label, Sentimental Records, that she founded with collaborator and fellow Popular Music alumna Madison "Wolfy" Scheckel ('14).
"It's really empowering to do something yourself — start a band, release your own artwork," Ross said. "With 'Sugar,' I had this song written and I just wanted to release it. There are no rules; I can just release a single. No one's telling me what to do."
Her star on the rise, Ross hopes to release a "upbeat, fun summer EP" in the coming months.