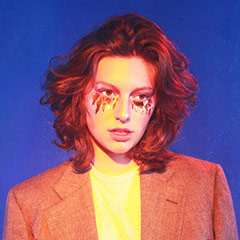 Pop artist King Princess (Mikaela Straus) featured on ASCAP panel
Mikaela Straus, a pop artist who performs under the name King Princess, recently took part in a panel discussion at the ASCAP "I Create Music" Expo, alongside musician St. Vincent and journalist Evelyn McDonnell. Straus, who is a non-degreed alumna of the USC Thornton Popular Music program, is the first artist to be signed to Mark Ronson's new Zelig record label. Straus spoke about her time at Thornton with faculty member Patrice Rushen during a wide ranging chat about the artists' creative influences.
Straus's debut single "1950" has become a viral hit, while her latest track, "Talia," has earned strong critical reviews.