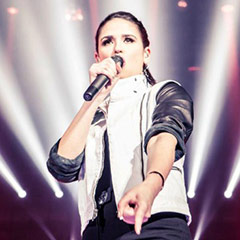 Popular Music alum Rozzi Crane featured in Today Show appearance
Vocalist and Popular Music alumna Rozzi Crane was featured as a musical guest on the Today Show, accompanied on guitar by alumnus Brandon Bae (BA '12, Studio/Jazz Guitar). Crane is the first artist signed to the record label of Maroon 5 lead vocalist Adam Levine and will tour with the band this summer. She will also be featured on the TV show The Voice on April 28.
A video of Rozzi Crane's Today Show performance can be viewed here.