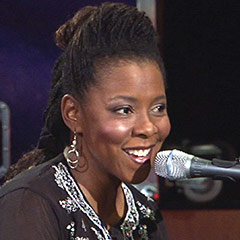 Popular Music chair Patrice Rushen speaks at Amherst College
USC Thornton Popular Music chair Patrice Rushen was recently invited to Amherst College in Massachusetts to speak about the importance of popular music in higher education. As part of the "New Perspectives in American Music" lecture series, Rushen detailed how Thornton's Popular Music program has filled an under-served niche in musical curriculum.
The discussion was recorded and broadcast by New England Public Radio last week and can be heard here.
A four-time GRAMMY Award-nominee, Rushen has mastered classical, jazz and pop forms. In addition to writing and recording the hit song, "Forget Me Nots," Rushen has composed scores for TV and film, and has worked with artists such as Stevie Wonder and Prince.