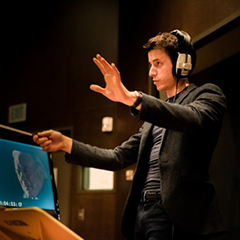 Raphaël Dargent featured in ABC6 News story
USC Thornton Screen Scoring alum Raphaël Dargent (MM '19), known as PHAR, was recently featured on ABC6 News in a story about his career as a film composer. Originally from Paris, PHAR pursued a career in business before deciding to follow his passion for music and move to Los Angeles to earn his master's in Screen Scoring at Thornton.
While studying at Thornton, PHAR explains that little by little, he would find new opportunities to score projects. "It started with a short movie, then another, then a commercial and so on," PHAR says. "I soon found myself composing some music for the French presidential campaign of Emmanuel Macron in 2017 and scoring for a theatre released feature film before even graduating."
Since graduating, Dargent has composed for film, animation, and video games, and recently co-wrote music for the movie Two, by Emre Okten.