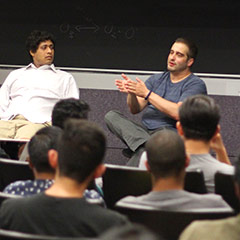 Remixer Todd Edwards visits EDM class
GRAMMY Award-winning house music producer Todd Edwards spoke last week to students of the Electronic Dance Music (EDM) course taught by Sean Nye of the USC Thornton Musicology program. Edwards, who has remixed tracks with artists such as Daft Punk, Wildchild, St. Germain, Benjamin Diamond, Justice, Klaxons and Dimitri From Paris, is highly regarded for his complex vocal reconstruction and collage techniques.
Edwards' talk was moderated by Music Industry major Neal Rahman, executive director of EDMSC, USC's electronic dance music student club. Author Simon Reynolds, whose book, Energy Flash, is arguably the definitive history of the genre, was also a recent visitor to the popular EDM class.