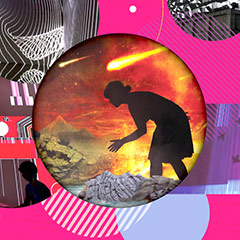 "Rhythms + Visions" to light up the School of Cinematic Arts this Friday
This Friday, April 28th, USC's School of Cinematic Arts will come to life with a spectacular evening festival of musical performances, interactive animation, projections, inflatables, and virtual reality experiences. The Visions & Voices-produced event, Rhythms + Visions / Expanded + Live 3, will feature work by innovative artists Refik Anadol, Miwa Matreyek, and Patterson + Reckinger.
Along with super-panoramic 70-foot projections and multimedia art installations, musicians, such as pianist Gloria Cheng (DMA '91) and guzheng player Zi-Zhu Zhao (MM '16), will perform music by John Adams, Esa Pekka Salonen, Tristan Perich, Pantawit Kiangsiri, and USC Thornton faculty member Veronika Krausas.
Rhythms + Visions / Expanded + Live 3 – Friday, April 28th at 8PM. The event is free, but an RSVP is recommended.