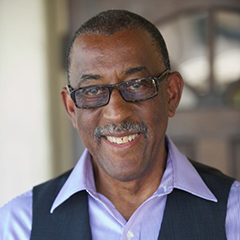 Roy McCurdy to be inducted into Rochester Music Hall of Fame
Jazz Studies faculty member Roy McCurdy has been announced as one of the 2020 class of inductees into the Rochester Music Hall of Fame. A native of Rochester, McCurdy has made his city proud as a world-renowned jazz percussionist. He has recorded and toured with a long list of jazz legends, including Count Basie, Ella Fitzgerald, Herbie Hancock and Sonny Rollins.
Alongside McCurdy in the 2020 inductee class are The Dady Brothers, GRAMMY-winning sound engineer Mike Guzauski, jazz singer Nancy Kelley, and the founder of Whirlwind Music Distributors Michael Laiacona. McCurdy will perform with a band of Rochester musicians at the 9th annual induction ceremony on April 26 in Rochester.