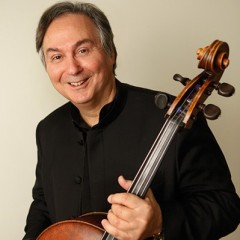 Royal Conservatoire of Scotland to award Ralph Kirshbaum with honorary degree
Cellist Ralph Kirshbaum, chair of the USC Thornton Strings department and Gregor Piatigorsky Chair in Violoncello, will receive an Honorary Degree from the Royal Conservatoire of Scotland (RCS), in recognition of his contributions to the arts. In its announcement of the award, the Conservatoire noted that Kirshbaum "is indisputably one of the most significant artists of the modern era." Other recipients of the 2016 degrees are actor and RCS alumnus David Tennant and renowned choreographer Sir Matthew Bourne.
In addition to his active international performance career, Kirshbaum has enjoyed strong ties with the UK, having served on the faculty of the Royal Northern College of Music (RNCM) in Manchester for 38 years. In 1988, he founded the RNCM Manchester International Cello Festival and remains engaged as honorary president of the London Cello Society.
Kirshbaum serves as artistic director of the Piatigorsky International Cello Festival, which will take place on the USC Thornton campus and at Walt Disney Concert Hall May 13-22 of this year. He will open the 2016 festival with a solo performance of Bloch's Schelomo – Hebraic Rhapsody for Violoncello and Orchestra with the Los Angeles Philharmonic, under Leonard Slatkin (May 13 at 8:00 PM), will perform in recital with the Emerson Quartet (May 17 at 8:00 PM), and will present a cello masterclass (May 21 at 10:00 AM).
Kirshbaum's Honorary Degree will be awarded by the Royal Conservatoire of Scotland at its graduation ceremonies in Glasgow on July 5.