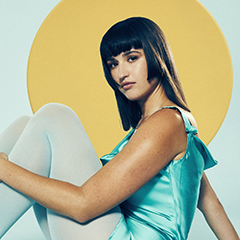 Rozzi featured in Daily Trojan
The Daily Trojan recently featured Popular Music alum Rozzi Crane (BM '13), known professionally as Rozzi, in an article about her musical journey as an indie-pop singer. Rozzi is a graduate of the inaugural class of USC Thornton's Popular Music program.
Looking back at her time in the program, Rozzi remembers how the rigorous lessons, performances and frequent songwriting honed her skills. "When I look back on it, I really think that the performance class and vocal lessons… changed my life as a singer," she said.
In the article, Popular Music faculty member Jeffrey Allen touches on the time he spent working with Rozzi during her time at Thornton. "Rozzi has a very sought-after quality in the vocal arts and many of the arts called chiaroscuro… It's the bright and dark blending, where you have brilliance and depth working together," said Allen. "Rozzi came to the studio with that quality and my objective was just to bring it out."