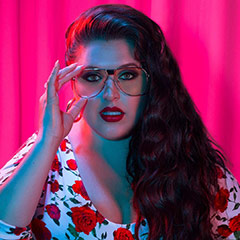 Ryan Seacrest helps launch Popular Music alum Malia Civetz' new single
Malia Civetz (BM '16), an alumna of the USC Thornton Popular Music program, has released a new single, "Champagne Clouds," which was debuted by Ryan Seacrest on KIIS FM locally and on Sirius XM and iHeart radio stations throughout the U.S. and Canada. The song was co-written with fellow Popular Music alumnus Nathan Fertig (BM '15). Watch the video of Civetz on Ryan Seacrest's show below:
Civetz signed a publishing deal with Warner/Chappell Music in December of 2016 and has recently been working on a solo artist project. She also signed an artist development deal with the dynamic team of Ross Golan ('01, Music Industry), 2017 BMI Songwriter of the Year, and sought-after songwriter JKash. In November, Civetz will be perform with the Indianapolis Symphony Orchestra in Steve Hackman's latest classical-pop mashup.