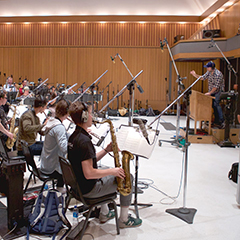 Screen Scoring program top-ranked in Hollywood Reporter
USC Thornton's Screen Scoring Program has once again been ranked near the top of The Hollywood Reporter's poll of the "Top 20 Music Schools for Composing for Film and TV of 2020." For the third year in a row, the report has placed USC at #2, just one spot under Julliard.
This year, the report also recognized the shifts and changes each school has made during the pandemic with combinations of virtual and in-person classes. "What we're going to do is record as many people as we can on the stage and then do remote, [with] people sweetening at home or in another studio," said Daniel Carlin, chair of the Screen Scoring Program. The article went on to highlight Thornton's partnership with the USC School of Cinematic Arts on five scoring projects.