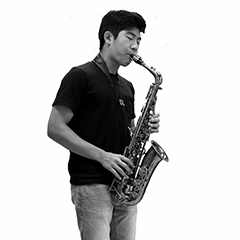 Simon Hwang sets Cleopatra's life to music
Simon Hwang, a double major in Jazz Studies at USC Thornton and Business Administration at USC Dornsife, took an unconventional approach to his final project for a general education course, foregoing a traditional term paper to create two new jazz compositions based on the life of Cleopatra. His cross-disciplinary project was recently highlighted in a USC Dornsife article.
After being given the choice to complete a creative project for the course, "Cleopatra's World," Hwang decided to explore how he could bridge history with music and reflect Cleopatra's life and rule through his compositions. The resulting pieces, "Was There, Us?" and "G Avenue" impressed his classmates and instructor, Associate Professor of Classics and History Christelle Fischer-Bovet. "He continues to build Cleopatra's legacy with his two musical compositions and shares his own views on why it still matters to talk about Cleopatra," Fischer-Bovet said.
Read more and listen to Hwang's compositions on the USC Dornsife website.