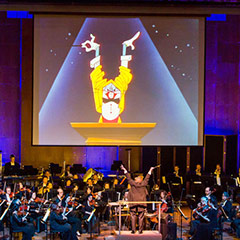 SMPTV grad students help bring Bugs Bunny to life on stage
A team of graduate students from the USC Thornton Scoring for Motion Pictures and Television Program recently assisted conductor George Daugherty in transcribing and restoring the music of 1930's and 1940's Warner Bros. cartoons, including selections from the beloved "Looney Tunes" and "Merrie Melodies." The New Yorker magazine reviewed Daugherty's work with the New York Philharmonic in their "Bugs Bunny at the Symphony" performance at Avery Fischer Hall.
The SMPTV students were indispensable to the process of transcribing and re-orchestrating the musical scores from the original animations so that they could be performed by the N.Y. Phil. "We had a team of eleven music transcribers in the graduate film-scoring program at U.S.C., working for months with headphones and Walkmen," Daugherty noted in the New Yorker article.
"Bugs Bunny at the Symphony" was first premiered with the Sydney Symphony in 2010 and is now touring in its second incarnation. The program will be arrive at the Hollywood Bowl for performances by the Los Angeles Philharmonic on August 14 and 15 of this year.