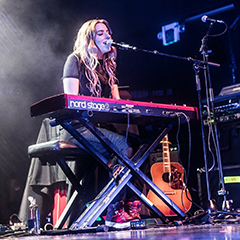 Sophie Beem profiled in Daily Trojan
USC Thornton junior Sophie Beem was recently featured in an article for the Daily Trojan. The piece explored Beem's journey in the music industry as a songwriter and an artist.
Before attending Thornton, Beem was signed to a three-year deal with Beyoncé's management and entertainment company, Parkwood Entertainment, and she also toured with Charlie Puth on the Nine Track Mind Tour. Since she was immersed in the industry from such a young age, Beem eventually decided that she wanted to experience school and get a college education like the rest of her peers.
"I wanted to go to USC to have a community of people my own age and really be able to go through trial and error, learning and growing," Beem said. "I feel like at a young age, I had to be really perfect because I was in this professional industry setting … but I knew I wanted to be able to be a kid and fall in love with music again."