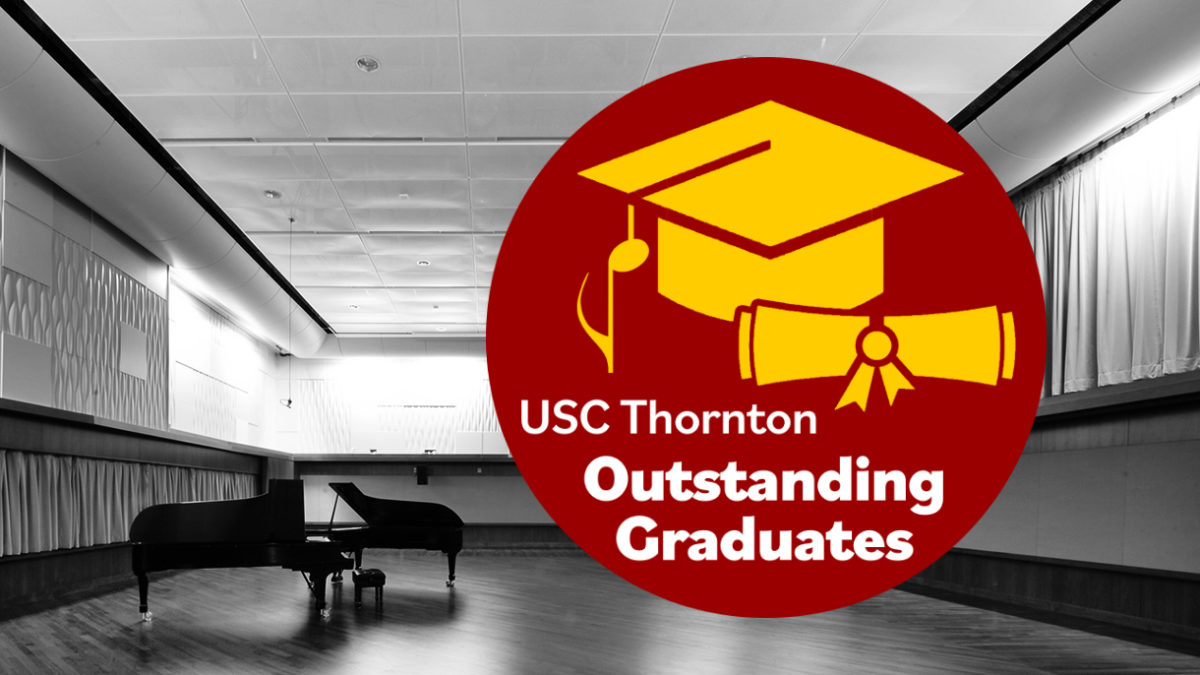 2020 Outstanding Graduates
Students in classical guitar, composition, keyboard studies, and popular music represent USC Thornton's 2020 outstanding graduates.
Five USC Thornton students were chosen as the 2020 Outstanding Graduates:
Tehillah Alphonso, BM '20, Popular Music
Nina Shekhar, MM '20, Composition
Tomasz Fechner, DMA '20, Classical Guitar
Joshua Tan, DMA '20, Keyboard Studies
Mak Grgić, MM '12, DMA '16, AD '20, Classical Guitar
Their stories exemplify the work ethic, passion and empathy of USC Thornton's Class of 2020.
Bachelor's: Tehillah Alphonso
Tehillah Alphonso BM '20 has hit some really high notes as a USC Thornton student, including graduating with high honors and as the Bachelor of Music Outstanding Graduate (only the second Popular Music major to do so).
"From day one, Patrice Rushen has told all of her pop students, 'Plan your work, and work your plan.' I have carried this quote with me, especially as a black woman attending such a prestigious institution and aspiring for success in the music industry," Alphonso said. "I never allowed myself to take my time in Thornton for granted."
Some of her performance highlights at Thornton were those directed by Rushen. "I was able to perform for songwriting legends like Allee Willis, Paul Williams and Jackie DeShannon, and perform in tributes dedicated to Burt Bacharach and the late Aretha Franklin," she said.
The professional opportunities starting rolling in when she was a junior. She sang on The Goldbergs, Brooklyn Nine-Nine, The Late Late Show with James Corden and the Will Smith animated movie Spies in Disguise. In January, she performed at the 2020 GRAMMY Awards with Billie Eilish. "It was crazy!" Alphonso said. "I'm so blown away that I was given that opportunity."
While at USC, Alphonso worked for Acapop! KIDS and the National Children's Chorus. She was also busy with the SoCal VoCals. She started performing with and arranging for the USC Thornton a capella group freshman year, and last year was business manager and music director.
In the fall, she will resume her position at a local high school as a capella and choral music director, worship team leader and music elements teacher. She'll continue to pursue background vocal work for studio sessions and touring artists.
"At Thornton, I improved my skills in music production, music education, arranging, piano accompaniment, songwriting, music direction and, of course, performance," she said. "I doubted myself a lot in my first two years at USC, but no matter how much or how little I believed in myself, I had friends and mentors supporting me and my dreams every step of the way."
Master's: Nina Shekhar
Nina Shekhar MM '20 has composed pieces for the International Contemporary Ensemble and the Los Angeles Philharmonic Association, Eighth Blackbird and the Blackbird Creative Lab, and the New York Youth Symphony (First Music), among others. She's currently working on a commission for the Lyris Quartet and the HEAR NOW Music Festival. She said her music "explores the intersection of identity, vulnerability, love and laughter."
"I've grown so much during my time at USC Thornton," said the Detroit native. "Musically, I'm proud of how much my music has evolved these past two years, how my peers have broadened my perspectives and encouraged me to take more risks in my art."
Shekhar has been studying with Ted Hearne, Andrew Norman and Nina Young. "My private teachers and all of the composition faculty are some of the kindest people I've ever known," she said. "My professors always gave so much of their time and energy to always make sure I felt supported. Our Thornton community is very special."
As she heads to Princeton for her doctorate, she reflected on her most important accomplishments at Thornton. "I'm proud of my Aural Skills students," she said. "I'm gradually learning how to become a better teacher, and seeing how much my students have grown makes me so happy."
"The most important thing I learned here," she added, "was figuring out what it means to be an engaged artist — empowering our own voices to speak our own truths, but perhaps more importantly, listening to others' truths and creating a space where everyone's identity is valued."
DMA: Tomasz Fechner
Tomasz Fechner DMA '20 has earned 15 International Guitar Competition prizes, a Polish Minister of Culture Award and a Fulbright Graduate Student Award. But the accomplishment he is most proud of is his graduate teaching assistantship in USC Thornton's Classical Guitar department.
"As a teaching assistant, I devoted 100% of myself to be out there for students. It wasn't only a job," he said. "I'm proud of every single little success that my students made towards improving their playing."
Fechner earned his bachelor's and master's degrees in classical guitar performance at the Ignacy Jan Paderewski Academy of Music in Poznań, Poland. At USC Thornton, he worked as a research assistant for USC's Polish Music Center, an international center of Polish music which maintains archives on pianist/composer Paderewski (the first musician to be given an honorary degree by USC in 1923).
At USC, Fechner made friends for life. "USC became like a family to me," he said. "I especially loved the time spent on research in the USC Polish Music Center. Their friendship, as well as the support of the USC Classical Guitar department faculty members, motivated me to completely immerse myself in my studies."
In January 2020, Fechner started as a marketing coordinator at Guitar Salon International in Santa Monica, Calif., and as a GSI Foundation consultant. In May, he started rolling out his latest recordings.
Teaching is definitely in his future. "Helping people and teaching guitar are the two most internally rewarding things I love doing in life," he said. "I might be graduating, but I'll always be there for USC and their students."
DMA: Joshua Tan
Joshua Tan DMA '20 hopes to emulate his mentors at USC Thornton in his future endeavors.
"Some of the greatest musicians I've worked with at USC are also some of the most approachable and relatable individuals; they give of themselves both on and off the stage," he said. "I think their actions can be summed up in two ideas: give generously of yourself and empathize with others.
"As musicians, it can be easy to get caught up in our own little worlds. I think the challenge of reaching others through our art is to be open to as many experiences as possible and connect with people from diverse walks of life."
As a baritone singer in the USC Thornton Chamber Singers, Tan said it was a privilege to be part of the 2018 performance of Considering Matthew Shepard. The students worked firsthand with the composer, and took a selection of CMS to sing on their tour to the Baltics and Poland. "The process of learning the score, internalizing the music, performing it for our local USC audience, and then presenting it to an international audience really opened my eyes to how significant our work as artists can be," he said.
One of Tan's proudest accomplishments was his lecture recital, where he played his first piece for piano with extended techniques: Little Suite for Christmas by George Crumb. "Most people don't think about strumming, plucking, muting and finding harmonics on piano strings, but the effect is truly otherworldly!" he said. He also won second prize in the Thornton Piano Concerto Competition. "That was always a dream of mine."
His mentor, Bernadene Blaha, is the kind of teacher he aspires to become. "She insisted that I continue wearing my many musical hats, whether as a pianist, choral musician, or composer," he said. "It is in Professor Blaha's nature to be candid, sincere and supportive as a teacher, which is something that encouraged me greatly as I went through the challenges of the DMA program at Thornton."
Artist Diploma: Mak Grgić
Mak Grgić MM '12, DMA '16, AD '20 earned his master's and doctorate degrees at USC Thornton and wanted to keep a good thing going. In fall 2017, Grgić became the first guitarist to be accepted in Thornton's most prestigious program, the Artist Diploma, in which enrollment is limited to four professionals with a high level of artistry and accomplishment.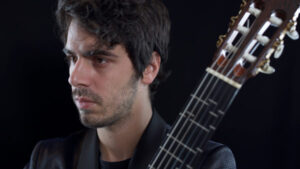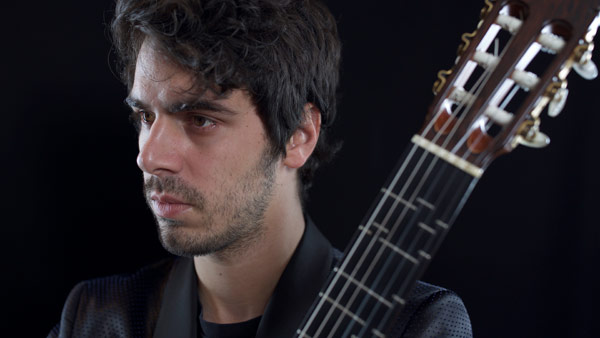 Already pursuing an active international career, Grgić found the Artist Diploma program an effective way to continue to fine-tune his craft. "The Artist Diploma is a different kind of mentorship. It's more about grooming an artist than guiding a student," he said. "It gave me the freedom to be an artist, to create and to get guidance when I needed it."
In the past few years, Grgić was on tour 300 days each year, performing 90 to 100 classical guitar recitals and concerts across the nation and around the world. He recorded five CDs in the past year and a half and became director of the Connecticut Guitar Festival.
Grgić brought together 17 international guitar festivals in a European Guitar Festival Collaborative called EuroStrings that enables them to collaborate on developing programming. "It's the first of its kind in the world," he said of the initiative funded with $4 million raised on Kickstarter.
Recently, Grgić launched a response to the pandemic. The Virtual Guitar Orchestra connects 144 guitarists from 50 countries. "Twenty-five world-famous guitarists donated their time to appear on the video so guitar lovers and aficionados from all over the world would be able to play alongside their heroes," he said.
For three years, Grgić consulted with mentor Brian Head on his creative projects and checked in with other Thornton professors he had studied with, such as William Kanengiser and Scott Tennant. He also engaged in interdisciplinary study with renowned cellist Ralph Kirschbaum and others.
He said of his nine years with Thornton, "It's a great school with great faculty. It's been such a privilege."
---
Celebrate USC Thornton's five Outstanding Graduates and the Class of 2020 at the live Virtual Celebration this Friday, May 15 at 10:00. Click here to watch live online this Friday.
Never miss a story
Subscribe to USC Thornton's e-newsletter
Subscribe