A Big Night for Music
USC Thornton faculty and alumni were well-represented at this year's GRAMMY Awards, with multiple nominations and wins for Nadia Shpachenko and Andrew Norman.
---
The 62nd GRAMMY Awards brought two first-time wins for USC Thornton Composition faculty member Andrew Norman and alum Nadia Shpachenko (MM '99, DMA '04).
The Los Angeles Philharmonic and Gustavo Dudamel won the award for Best Orchestral Performance for their recording of Andrew Norman's "Sustain," a piece the LA Phil premiered in 2018, and for which Norman was previously named a finalist for the 2019 Pulitzer Prize for Music.
"Andrew Norman is an extraordinary talent and vital member of our LA Phil family," Dudamel says of their GRAMMY win. "And we are all so proud to have been able to commission, premiere and record this magnificent work of his."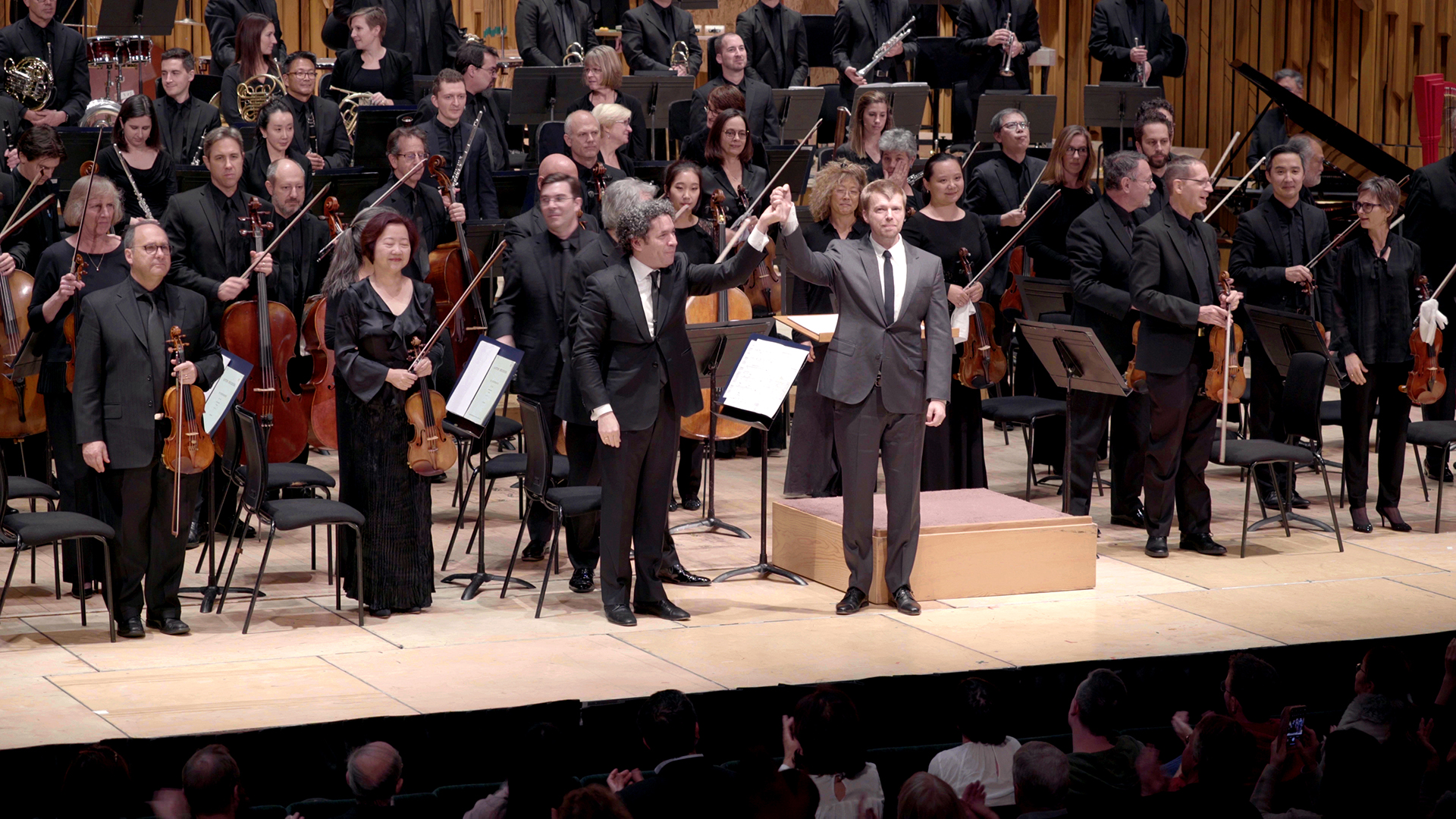 Heralded as a contemporary masterpiece, and described as "a near out of body acoustic experience" by Los Angeles Times music critic Mark Swed, Norman's "Sustain" was also nominated for Best Contemporary Classical Composition.
Pianist Nadia Shpachenko took home her first GRAMMY for Best Classical Compendium for her album The Poetry of Places. The album also earned its producers, Victor and Marina Ledin, a nomination for classical producer of the year.
The Poetry of Places features a variety of works composed as reflections on specific locations, or architectural landmarks, including "Frank's House," by Andrew Norman, and "Kolokol," by fellow Composition faculty member Nina C. Young.
Featured Performers
Thornton alumni performers were also featured on winning albums: non-degreed alum Reeve Carney stars in the Broadway musical Hadestown, winner of Best Musical Theater Album; and Sunny Yang (MM '10, GCRT '12), cellist for the Kronos Quartet, performs on the album Terry Riley: Sun Rings, winner of Best Engineered Album, Classical.
Jazz Studies faculty member Sara Gazarek was honored with first-ever nominations for her self-produced album Thirsty Ghost. The album was nominated for Best Jazz Vocal Album, and Geoff Keezer earned a nomination for Best Arrangement, Instruments and Vocals for his arrangement of the Dolly Parton classic "Jolene" which Gazarek performs on the album. Gazarek also had the distinct honor of headlining the Recording Academy's official after party.
Jazz Studies faculty member Vince Mendoza continued his streak of multiple nominations each year with four total nominations. Like Gazarek and Keezer, Mendoza was nominated for Best Arrangement, Instruments and Vocals for Trisha Yearwood's rendition of "Over the Rainbow." His piece "Love, A Beautiful Force" received two nominations for Best Instrumental Composition and Best Arrangement, Instrumental or A Cappella. And The WDR Big Band, for which he is the conductor, were the featured performers on Fred Hersch's track "Begin Again," nominated for Best Instrumental Composition.
Off-Stage Success
Off the stage, a special congratulations are in order for Music Industry alum Justin Lubliner (BS '12). The founder of music company The Darkroom, Lubliner's Interscope imprint, Darkroom Records, released Billie Eilish's celebrated record, When We All Fall Asleep, Where Do We Go? Eilish was the second artist Lubliner signed to the label, and the 18-year-old musician went on to sweep the top categories, winning album, record, song and best new artist for only the second time in history.
Never miss a story
Subscribe to USC Thornton's e-newsletter
Subscribe