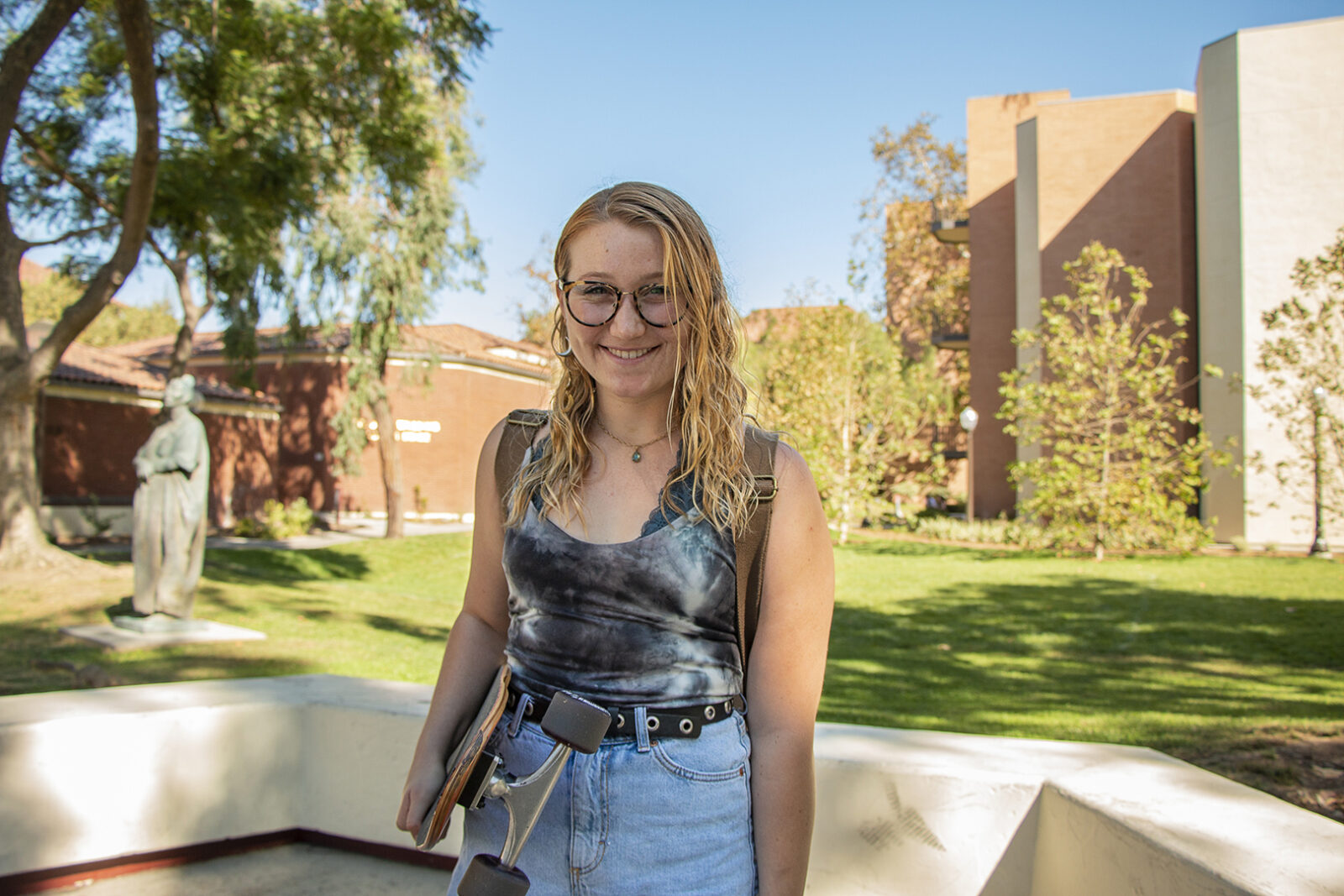 A day in the life: Molly Sibley
Student Ambassador Molly Sibley describes her day as a student at USC Thornton on Tuesday, Sept. 10. For this Music Industry major, Los Angeles is her classroom—from the USC campus to performance venues around town.
---
7:00 am: Harry Nilson's "Gotta Get Up" blares through my alarm and I drag myself out of bed, chugging a caffeinated drink on my way out the door to my daily morning swim before class.
9:00 am: To keep cool in the brutal Los Angeles heat wave, I skateboard from the campus pool over to Fertitta Hall for my first class: BAEP 451: The Management of New Enterprises.
10:00 am: Class begins and we are greeted by guest speaker Tarek Tohme, founder of the LA-based film company Stone Ground Pictures.
Typically, this class explores the building blocks and challenges an entrepreneur may face in a start-up business. It was within the first few class meetings that I discovered how many misconceptions I had about start-ups. I quickly began to view start-up models similar to a piece of Play-Doh, that molds, builds and forms to become a solution to a consumer's "pain" or problem.
In today's class, Tohme lectures on the vital importance of learning about entrepreneurship and having a solid understanding of business when branding new artists and beginning creative ventures in the music industry.

12:00 pm: I begin my second class, MUIN 425: Live Production and Promotion with professors Michael Garcia and Michael Kaminsky. Generally, we learn about the management, marketing, and technology required to organize and produce a live event. The class delves into real-life scenarios, which includes the occasional class field trip.
Today we have the opportunity to tour The Novo, a popular music venue located at L.A. Live. When we arrive at the venue, our tour guide explains the intricacies of producing a live event, giving us real-world exposure to rigging specifications, stage requirements and the load-in process. Learning about venues and hosting live events is particularly helpful because we will be required to build our own live shows this semester as a final project for this class.
After hopping in a Lyft with some friends, I head back to USC for my last class of the day.

2:00 pm: I make my way to MTEC lab for my most challenging class of the semester: MTEC 444: Non-linear Midi Sequencing with Professor Timo Preece. I take a seat at my station, which is equipped with a desktop computer, a midi keyboard and an audio interface, through which the class can all work alongside the professor.
From creating drum tracks to quantizing midi sequences that we've recorded, we collectively work on exercises that teach us how to navigate and become proficient in Ableton, a software music sequencer.
4:00 pm: Once I'm done with class, I lie on the grass in front of The Music Complex building for a little while to enjoy some fresh air and take a moment to breathe. I do a little homework, then pop by Trader Joe's in the USC Village to grab food for dinner before heading home to finish homework.
9:00 pm: I take a break from studying to meet up with some friends and see a stand-up comedy show at a venue called the Dynasty Typewriter in a nearby neighborhood. I greatly appreciate these times when I get to go out and explore some of what the city has to
offer.
---
The USC Thornton Student Ambassadors are currently enrolled undergraduate students at the USC Thornton School of Music and are committed to enhancing the experience for all students, present and future.
Never miss a story
Subscribe to USC Thornton's e-newsletter
Subscribe