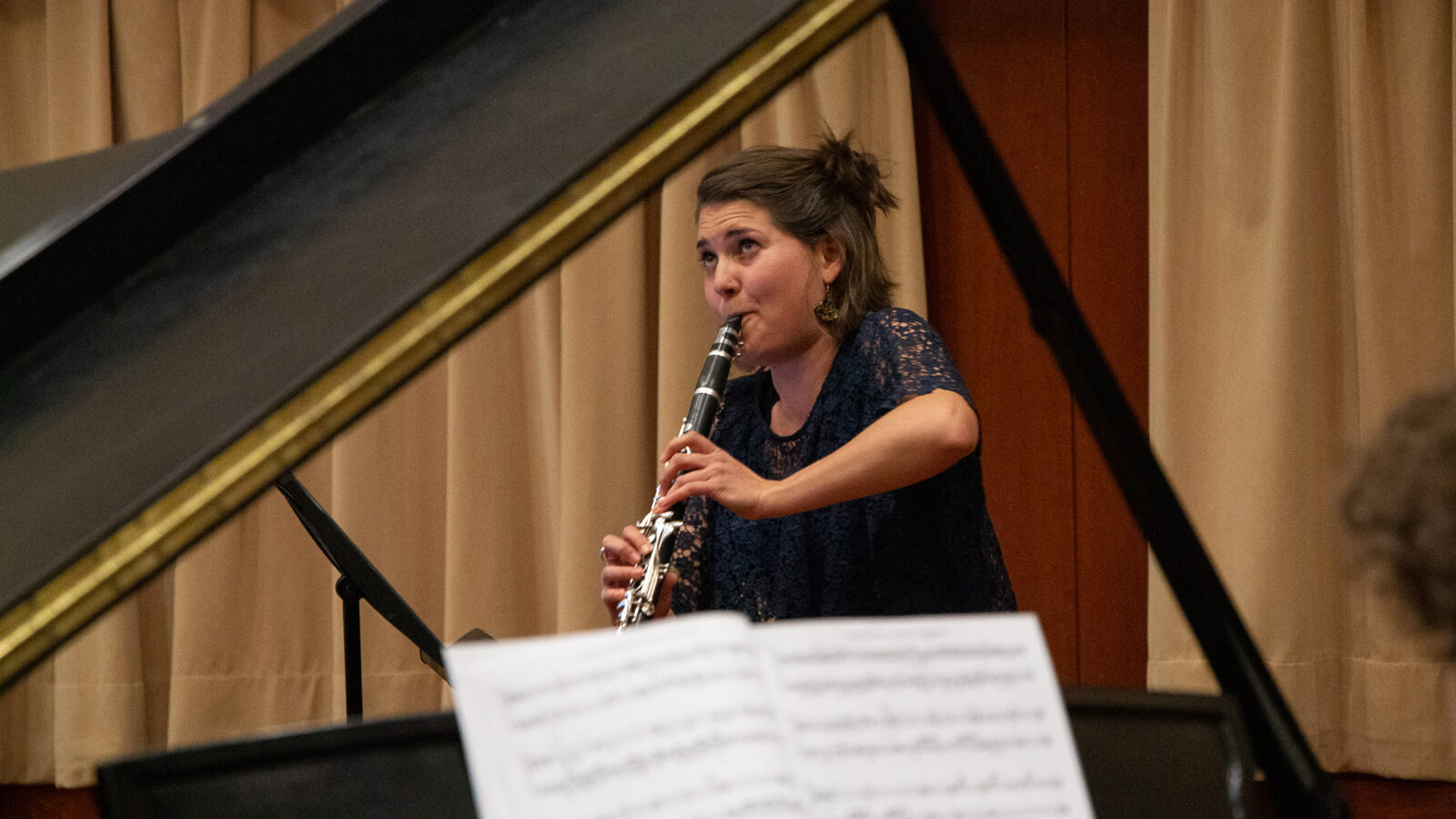 A Golden Concerto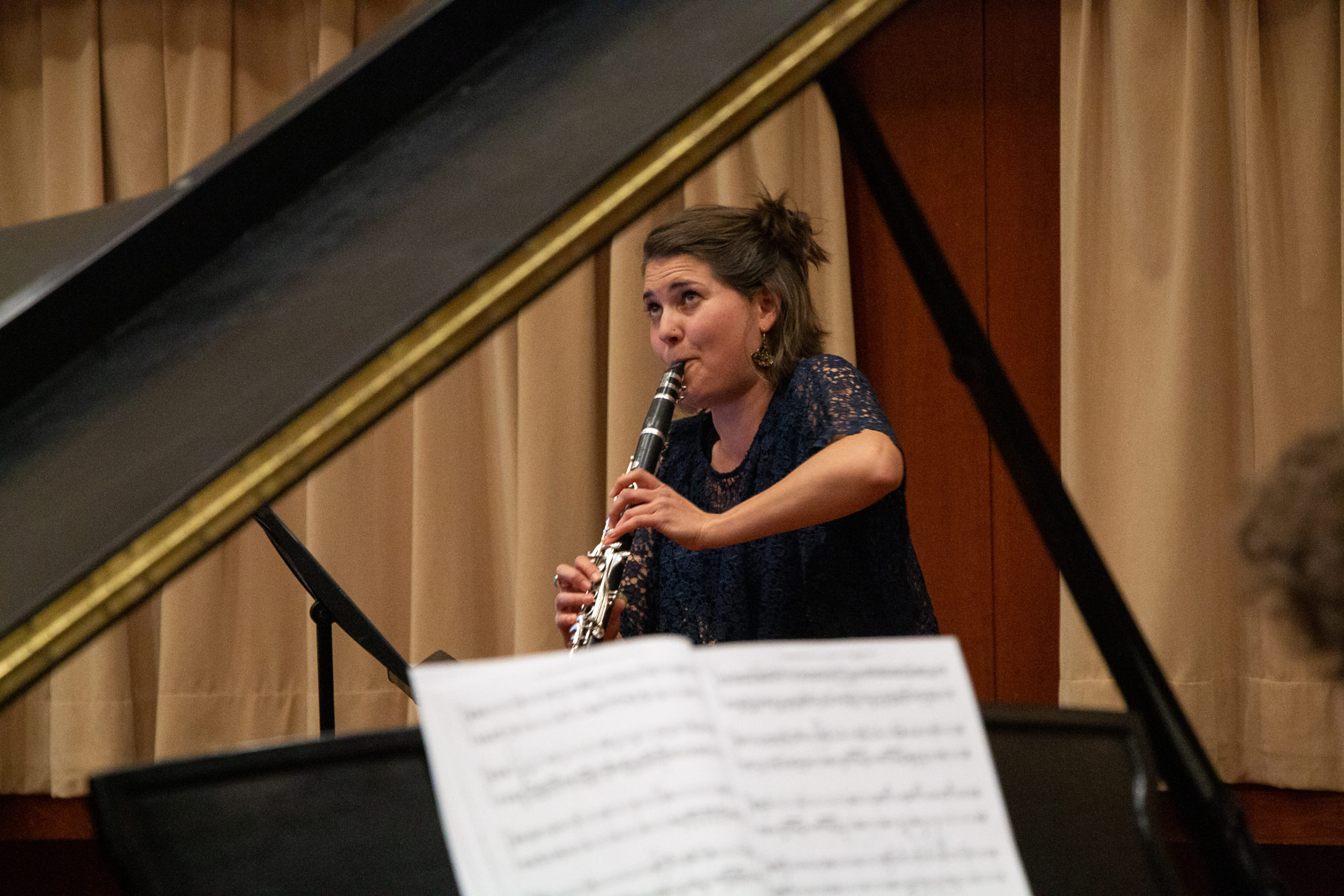 Yasmina Spiegelberg will present the premiere of a chamber version of Kalevi Aho's Clarinet Concerto in a commission USC Thornton faculty made possible.
---
Musical instruments are often defined by inherent limitations, but what are limits for if not to be challenged every now and then?
"This concerto pushes the limits of what is considered achievable on the clarinet," says artist diploma student Yasmina Spiegelberg, who will present a world-premiere of the chamber version of Kalevi Aho's Clarinet Concerto on Tuesday, March 3 in Newman Recital Hall.
The free event at 7:30 pm features USC Thornton's new music ensemble, Thornton Edge, conducted by Donald Crockett, and also includes the premiere of Memoryscapes by composer Dan Caputo.
Kalevi Aho, considered one of Finland's leading composers, wrote the concerto in 2005 for the clarinetist Martin Fröst. Classical Today called it "lyrical, thematically memorable, and beautifully scored" and that it "easily should find a home in concert halls throughout the world."
"In an email exchange with Aho, he told me that ten years ago there was a vote in Germany among professional clarinetists to select the best clarinet concerto, and his was voted second behind Mozart's," Spiegelberg said. "That's so impressive."
The Thornton Edge performance is a world-premiere of a chamber version for soloist and twelve musicians, arranged by Michael Kallin.
"I'm thrilled to perform this piece," says Spiegelberg. "I can't wait."
Faculty Support
As is often the case when a gifted student sets a high bar for themselves, faculty across the school stepped in to help make this premiere possible. When Spiegelberg expressed an interest in performing the concerto, Larry Livingston, chair of the department of conducting and former Dean of USC Thornton, secured the commission to write the arrangement for chamber ensemble.
In addition to Livingston, Yehuda Gilad, Spiegelberg's teacher and a celebrated professor of clarinet, worked with her to prepare, and Donald Crockett, chair of the Composition program who has long championed new music at the school, brought the arrangement to Thornton Edge.
"Over the years with Thornton Edge, it has been a pleasure and an honor to highlight our musicians in featured performances—often regional, national, and world premieres—of challenging new music by today's leading composers," said Crockett. "We are always looking to the shared adventure of performing difficult and consequential music, such as this Aho concerto, with such formidable young musicians as Yasmina Spiegelberg."
A Love of New Music
A native of Switzerland, Spiegelberg was gold medalist at the Manhattan International Music Competition, and the first prize winner of the Rotary International Competition Madrid Velázquez and the Frances Walton Seattle Competition. After earning degrees in Switzerland, the Netherlands, and Norway, she came to USC Thornton to study with Gilad, earning a graduate certificate in 2017 before earning a coveted spot as an artist diploma student.
She was drawn to the concerto for more than its technical challenges.
"What I love about new music is that the musician is often required to dig into their most extreme emotions, and that the frontiers of how to express them musically are stretched further," says Spiegelberg.
"Being given the opportunity to finish my very rich four years of study at USC on such a note with the Thornton Edge is simply golden."
---
Spiegelberg's performance with USC Thornton Edge will take place Tuesday, March 3, at 7:30 p.m. in Newman Recital Hall. This event is free and open to the public. No RSVP required.
Never miss a story
Subscribe to USC Thornton's e-newsletter
Subscribe