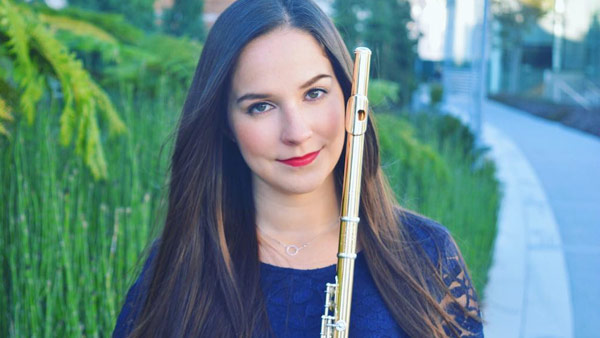 A Musician with Social Media Savvy
By Allison Engel & Ryan Williams
While earning a master's degree in flute performance at USC in 2013, Gina Luciani received some very shrewd advice – that a freelance musician should always have three sources of income. Luciani has more than taken that admonition to heart, using technology and social media platforms to forge a thriving, multi-faceted career that is a major pivot from the traditional performer's path.
Luciani started by doing session work for films, television, album projects and commercials. It is rich and rewarding work, but is largely done behind the scenes. When she decided to step out of the shadows to develop an active presence on social media, multiple new revenue sources emerged.
Here's what Luciani did:
She started a service offering professional remote recordings for scores, albums and other music projects from her home studio using ProTools software.
She began posting pictures and commentary about her professional and personal activities on Instagram. After only a year, Luciani had more than 21,000 followers and brands began asking her to sponsor their products.
She launched a YouTube channel with a series of tutorials for flutists that turned out to appeal to young musicians of all kinds, covering topics such as orchestra etiquette and how to navigate a career in music.
And she began giving private lessons to flutists located anywhere, via Skype.
"Originally, when I went onto YouTube and Instagram, I didn't think that they would ever generate any income for me," Luciani said. "It just kind of turned into that."
Luciani helped her cause by pursuing work in various genres of music, a practice endorsed by her USC Thornton School of Music flute professor James Walker, who is well-known for genre-blending performances.
"That was one of the things that I loved about Jim because some teachers aren't okay with people doing things other than solo work or orchestral work, and he was very open to me doing whatever I wanted to do," she said.
It was from Kristy Morrell, chair of the Winds & Percussion department, that the recommendation came to have three sources of income as a musician.
Luciani's social media presence sprouted several sources of income and has allowed her to connect with younger musicians, offering a model for what a career in music looks like today.
Luciani said that when she started posting about her gigs, she had no idea that up-and-coming musicians would be looking to her for guidance. "It was more about sharing my music with people, so when I realized I was becoming a role model for young musicians, it was kind of shocking. I respond to them as much as I can."
Through YouTube, Instagram and Skype, Luciani is able to connect with young musicians directly, something that was not available to her when first studying her instrument. "If I would have been able to reach out to Jim or other musicians I looked up to when I was younger and have them write back?" she asked. "It would have been crazy. The opportunity to have lessons via Skype with world renowned teachers would have been incredibly helpful."
The Utah native's passion for studio work began almost as soon as she picked up a flute, and her interest brought her to Los Angeles for undergraduate study at the Colburn Conservatory of Music and graduate work at USC Thornton. Her television studio credits include "Penny Dreadful," "Chef's Table," "The Middle," "League of Legends" and "Planet Earth II," as well as the films "Straight Outta Compton" and the upcoming "Birth of the Dragon" and "The Ballad of Lefty Brown."
"I am very grateful that my long-time goal to work as a studio musician is becoming a reality," Luciani said. "I feel very fortunate."
Session work regularly takes her across Los Angeles, and Luciani often traverses the city by car to reach distant recording venues. She's learned to always arrive early, and has even picked up a few packing tricks that allow her to bring most of her home studio along for the ride.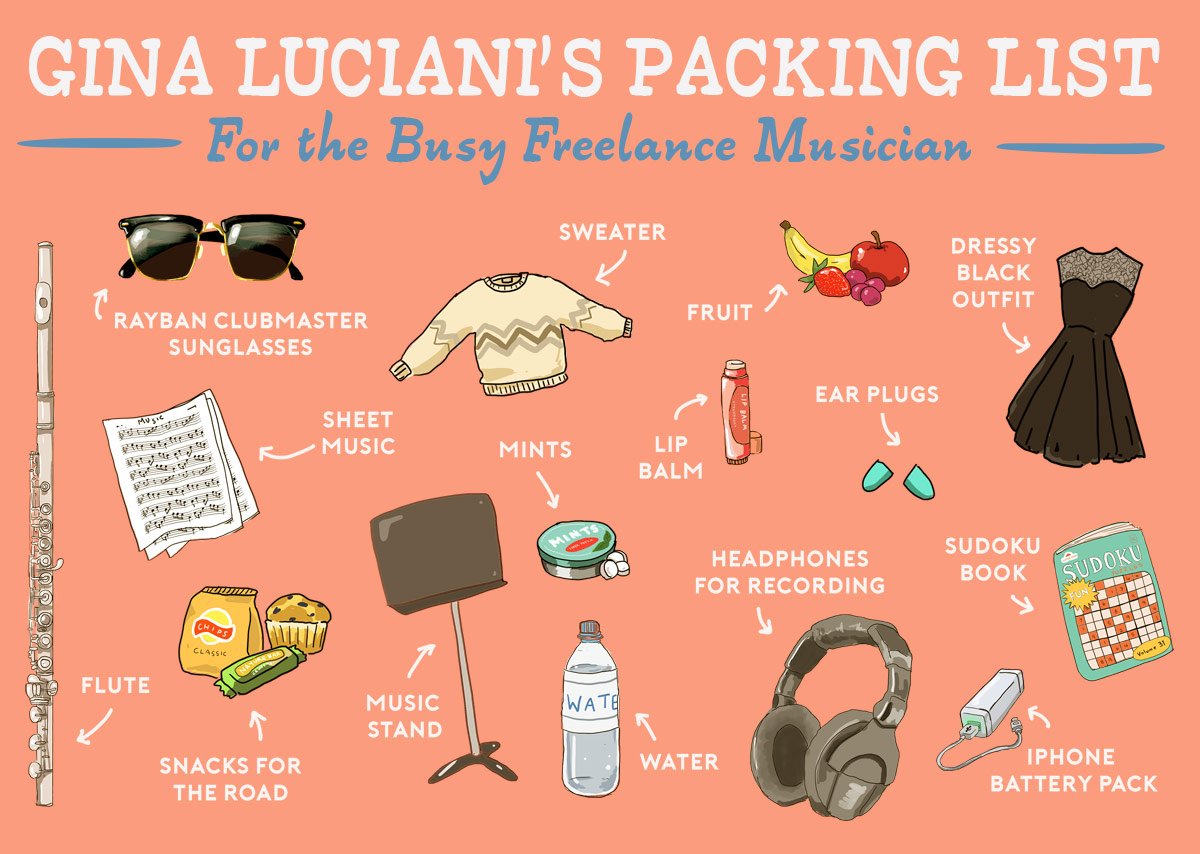 Despite her busy recording schedule, Luciani regularly steps out of the studio to perform live. She played with the Wu-Tang Clan at the Coachella Music Festival, and was seen onscreen in the ABC show "Greatest Hits," performing the flute solo from "Down Under" with Colin Hay of the group Men at Work.
All this digital and session work complements the classical performances that Luciani continues to book. She is the piccoloist for the Hollywood Chamber Orchestra, has been a soloist with a number of ensembles and has performed as a guest artist for the Grand Performances Concert Series, the San Diego Guitar Festival and the "Sundays Live Series" at LACMA, as well as performing with The Echo Society and the American Contemporary Ballet.
And Luciani has also recorded two albums: "The Hyperion Duo: Music for Flute and Harp" and a self-titled debut featuring classics, original arrangements and rare flute works.
Being innovative with technology, being open to various genres of music, combining digital and live performances – it all adds up to a blueprint for success for the hardworking musician in 2017.
Never miss a story
Subscribe to USC Thornton's e-newsletter
Subscribe