A Summer to Remember
By Tyler Francischine & Brittany Jimenez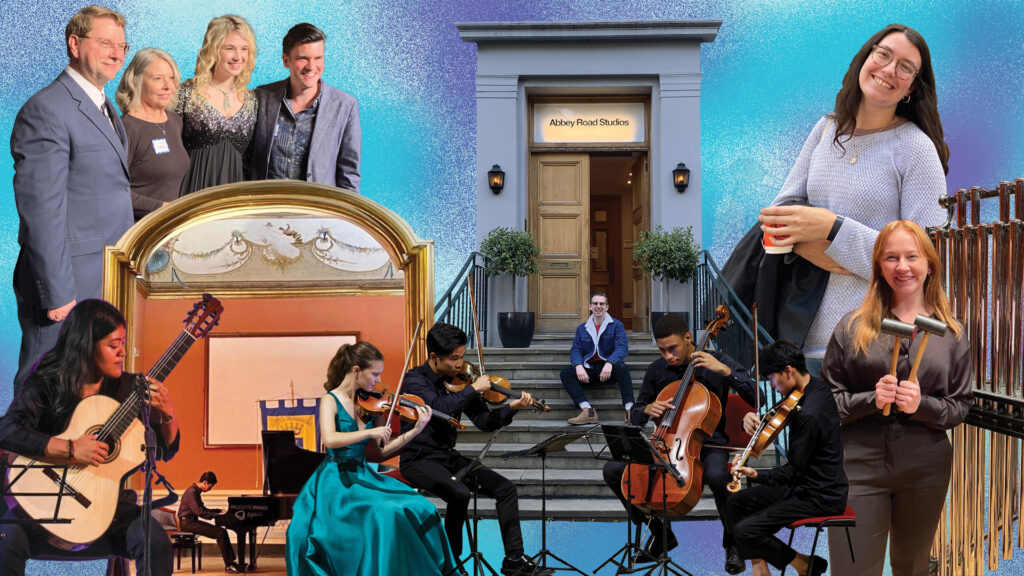 Thornton Student Ambassadors look back on a summer of unforgettable opportunities and important lessons.
---
The fall 2022 semester may be in full swing at USC Thornton, but Thornton's Student Ambassadors are still reminiscing about the internship, festival and performance opportunities they had this summer that helped them grow as both musicians and people. Learn more about how these student-leaders spent their summers – and how they're incorporating what they learned into their current studies this fall – in their own words:
Internships
George Tyler Heffley, a senior majoring in both jazz studies and music industry, worked as an intern and runner for Sacred Tiger Music Production in Santa Monica. Here he worked with composer Henry Jackman (who has scored films like "Kong: Skull Island" and "X-Men: First Class") and his film scoring team. Heffley recalls the experience as one of the most rewarding of his life.
"I've been able to experience the creation of music for film throughout the whole creative process," he says, "from some of the initial compositions that were made, where the film director and their team made edits to the scores, to the actual scoring recording sessions at multiple film and recording studios in L.A. The best part of all of this was being a part of all of the recording sessions. Hearing the roar of the orchestra both in the live and control rooms are moments that people don't always get to experience and it's so exciting and thrilling to hear and witness that."
Sophomore composition major Ella Kaale worked as an alumni intern with the American Festival for the Arts Summer Music Festival in Houston, where she assisted in daily operations and the administration of the Composers Workshop. The most important lesson she learned this summer was how vital it is to balance creativity with work, and how helpful it is to find creative outlets within work. One piece of advice she received from her supervisor remains close to her heart as she navigates a new semester at Thornton.
"'You're always searching for perfection, but sometimes perfection isn't possible, and you have to accept that,'" Kaale recalls being told. "College students, especially musicians, see no room for error. Everything has to be perfect, or you're not cut out to be here. The internship made me realize these old lies aren't true. Perfection is not an attainable standard, but success, satisfaction and happiness are."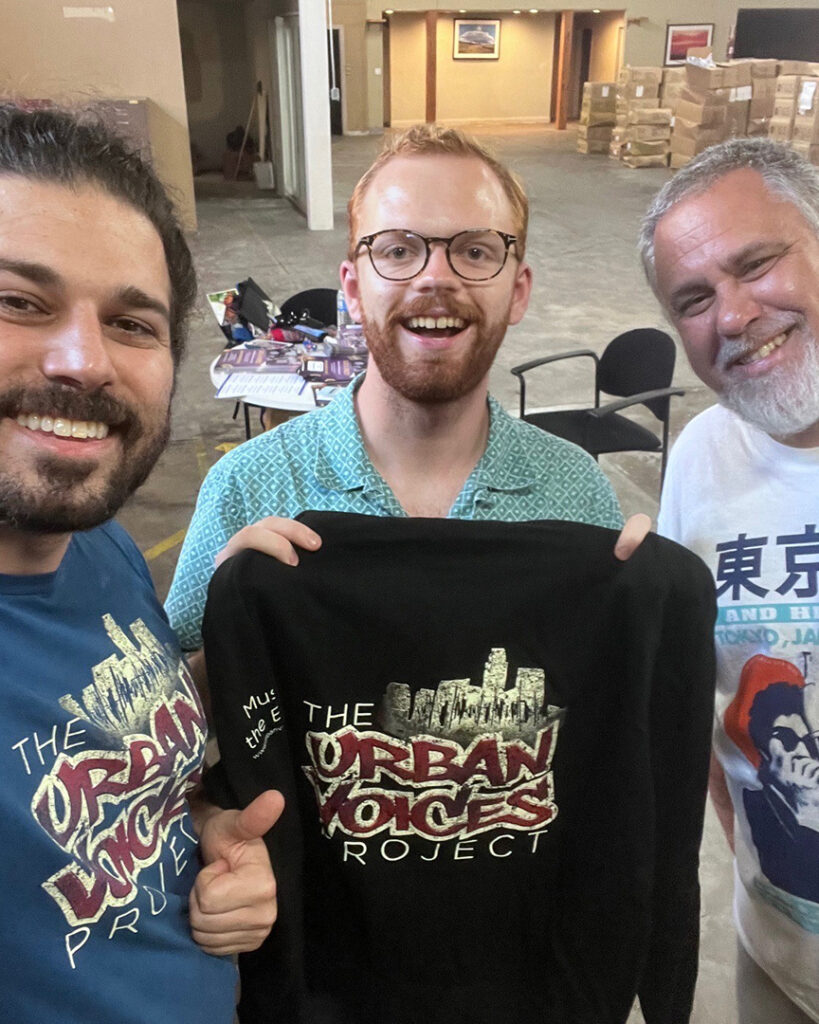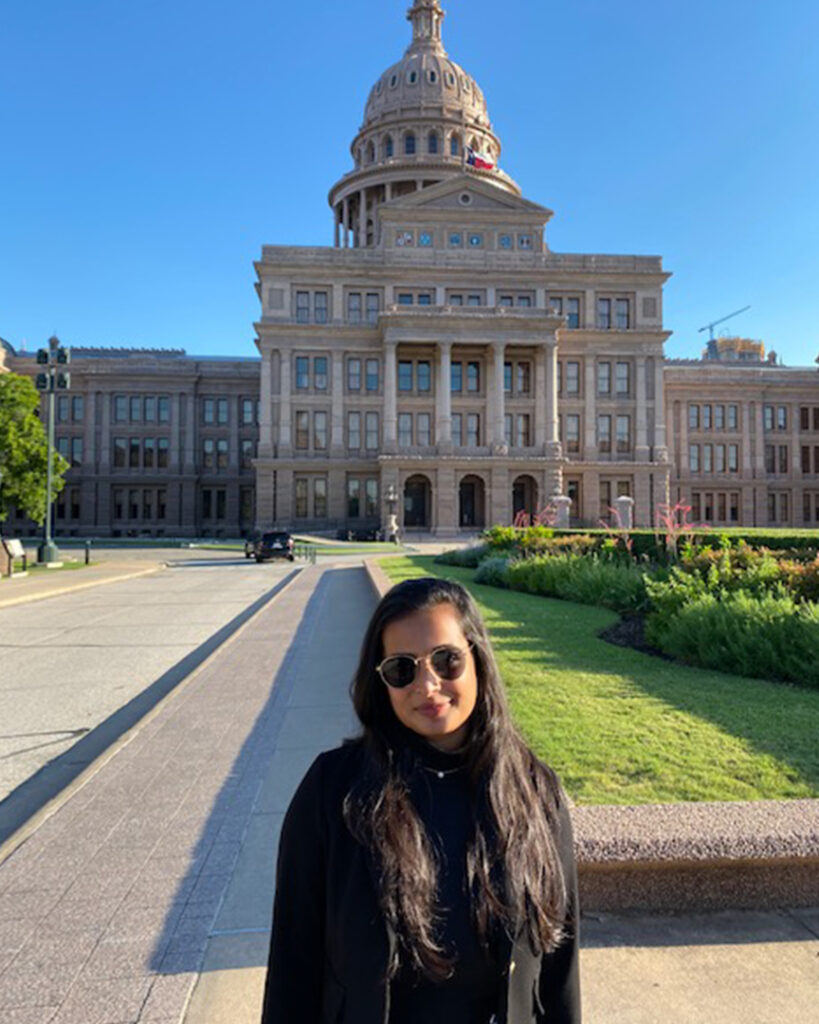 Music industry senior Aidan McIntyre completed an immigration law internship in Seoul, South Korea, as part of the USC Global Fellows program, where he learned the fundamentals of running an international small business as a sole proprietor in the legal field, exactly the kind of work he wants to do in the music industry after he graduates.
"The skills of time management and communication I learned will be helpful in balancing my course load while growing and managing the USC Journal of Music Industry as its co-editor-in-chief," McIntyre says.
Caleb Durant, a junior studying French horn, helped create an audio-engineering course for the Urban Voices Project, an organization that uses the power of music to assist unhoused individuals living in Los Angeles.
"I had been doing general audio and technical assistance for the Urban Voices Project, but I was talking with their directors, trying to see what more I could offer. Together we came up with the idea of teaching an introductory course with the goal of enabling choir members to be able to assist and even run audio-video (a/v) systems on their own," Durant says. "I taught a group of about 10 students weekly, and they were fantastic. Even though none had prior a/v experience, they were excellent learners. I'm so proud of how much they learned, and I enjoyed seeing them start from absolutely nothing to talking about signal flow and analog versus digital processing. It was incredible."
Samantha Chacko, a vocal arts junior, spent most of her summer with the California Attorney General's Office through the USC Schaeffer Fellows program and spent a few weeks with the Texas Attorney General's Office in Austin, where she wrote press releases and speeches and conducted legal research.
"Trying new things was probably the biggest takeaway I got from my internship," she says. "I tried my hand at speechwriting and public relations communications this summer, and it was so much fun!"
Festivals and Performances
Senior violin performance major Olena Kaspersky had an unforgettable summer of travel and performing while attending the Green Mountain Chamber Music Festival in Burlington, Vermont and the Rencontres Franco-américaines de Musique de Chambre Festival in Missillac, France.
"Playing chamber music is one of my favorite things as a musician, so getting to play with colleagues in Vermont and France made my summer one of the best experiences of my life," she says. "Every moment on stage was a privilege that helped me uncover new personal strengths and nourish my love of performing."
Popular music senior Maria McMillan traveled to London for a 10-day intensive trip as part of the academic course Contemporary Popular Music: A Global Perspective. Thornton instructor Richard Smith, in association with the Institute of Contemporary Music Performance, London, guided the students through lessons in songwriting, performance and production, event and stage management, collaboration, team building, music direction, event promotion, leadership and problem solving. A special highlight was when students formed bands and recorded songs in the iconic B studio at Abbey Road, where the Beatles recorded many of their releases.
"Recording at Abbey Road was a very surreal experience," McMillan recalls. "You could feel the rich history of the studio, and I got chills when I walked in. It was so cool to be in a room that I'd seen in tons of music documentaries and be able to record an original song there."
Piano performance junior Ankur Mukhopadhyay participated in the Amalfi Coast Music & Arts Festival in Maiori, Italy, where he received masterclass instruction and the opportunity to perform publicly. More than anything, he treasures the relationships he built during those two weeks in Italy.
"Being able to meet people from different nationalities, cultures and music experiences was an eye-opening experience," Mukhopadhyay says. "I became friends with two people from Iceland. My dorm roommate from Hong Kong is currently studying at Royal College of Music, and I met a festival intern who got his bachelor's from San Francisco Conservatory of Music and is planning on applying to USC Thornton for his master's. What is amazing is that I still talk to them, and I hope to meet them again sometime."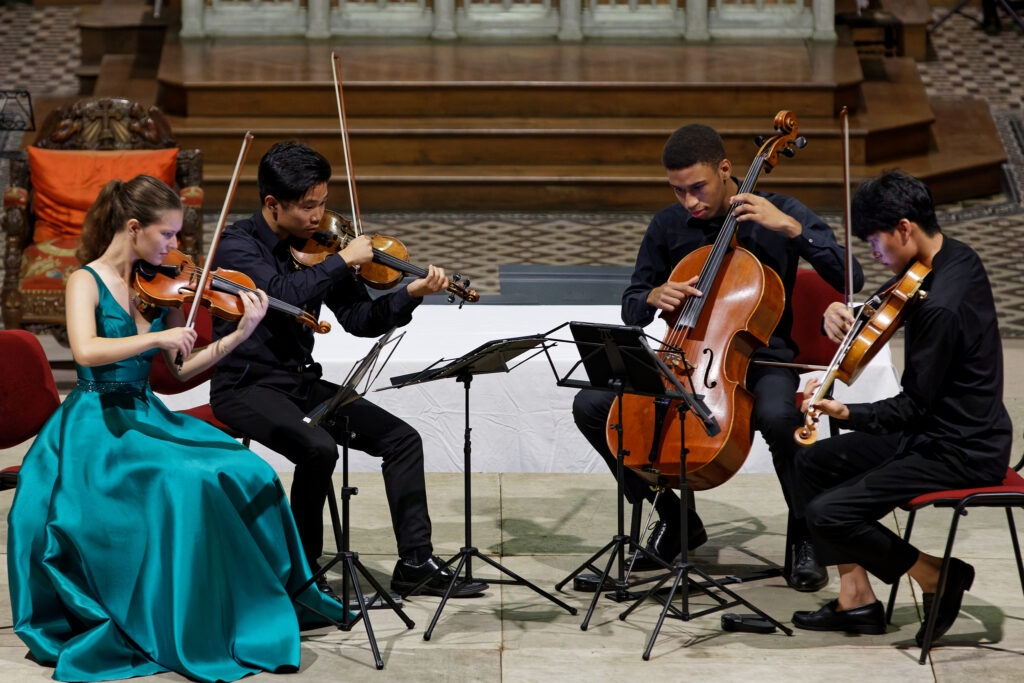 Classical guitar sophomore Daniela Santiago participated in a pair of music intensives and festivals. After a three-week guitar intensive at the Brevard Music Center at Brevard, North Carolina, she flew to Granada, Spain, for a monthlong guitar festival, La Guitarra Española.
"The most inspiring moment from my summer experience was when I saw both of my guitar professors perform for the first time at La Guitarra Española. Pepe Romero and Bill Kanengiser are each one of the best classical guitar performers and instructors. I loved watching them perform because I realized that even though they have performed for so many years, mistakes can still happen. This made me realize that we are human, and at the end, everything will be alright," Santiago recalls.
Oliviana Marie, a sophomore studying composition, had a summer full of performances, collaborations and recognition for her hard work, which culminated in helping her grow as both a composer and performer. In early June, she traveled to Clarinda, Iowa, as one of 10 semi-finalists for the Glenn Miller Big Band Scholarship Competition, where she received the first-place prize (The Ray Eberle Vocal Scholarship) and was invited to sing with the Glenn Miller Orchestra. She was also selected to participate in the SW!NG OUT! Mentorship program at the Music Center in downtown Los Angeles, where she composed a piece for the Eyal Vilner Big Band.
"I was mentored by incredible artists who not only imparted wisdom about music, but life as a creative person in general," she says. "My multi-talented SW!NG OUT! mentor Ron Wilkins reminded me of the importance of having a deep understanding of musical history across a multitude of genres and taught me that even knowing a little about a lot can serve you well. By diversification in your craft, you can open the door to more opportunities. One of my favorite quotes has become, 'A jack of all trades is a master of none, but oftentimes better than a master of one.'"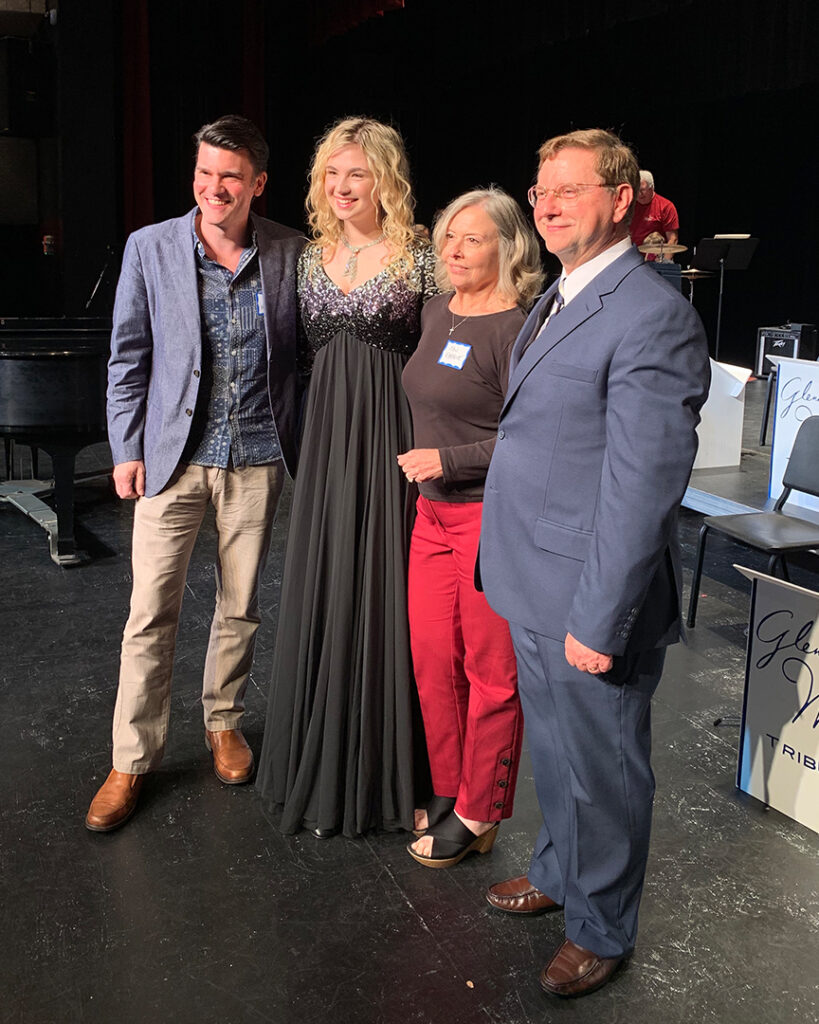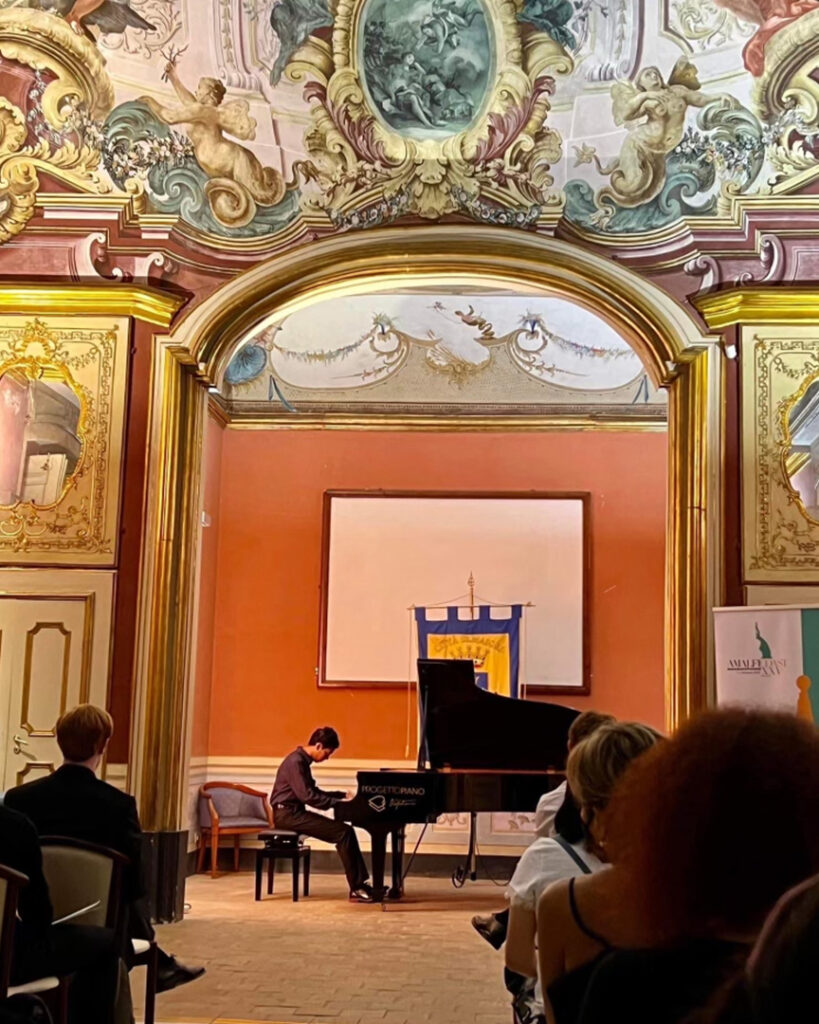 Never miss a story
Subscribe to USC Thornton's e-newsletter
Subscribe