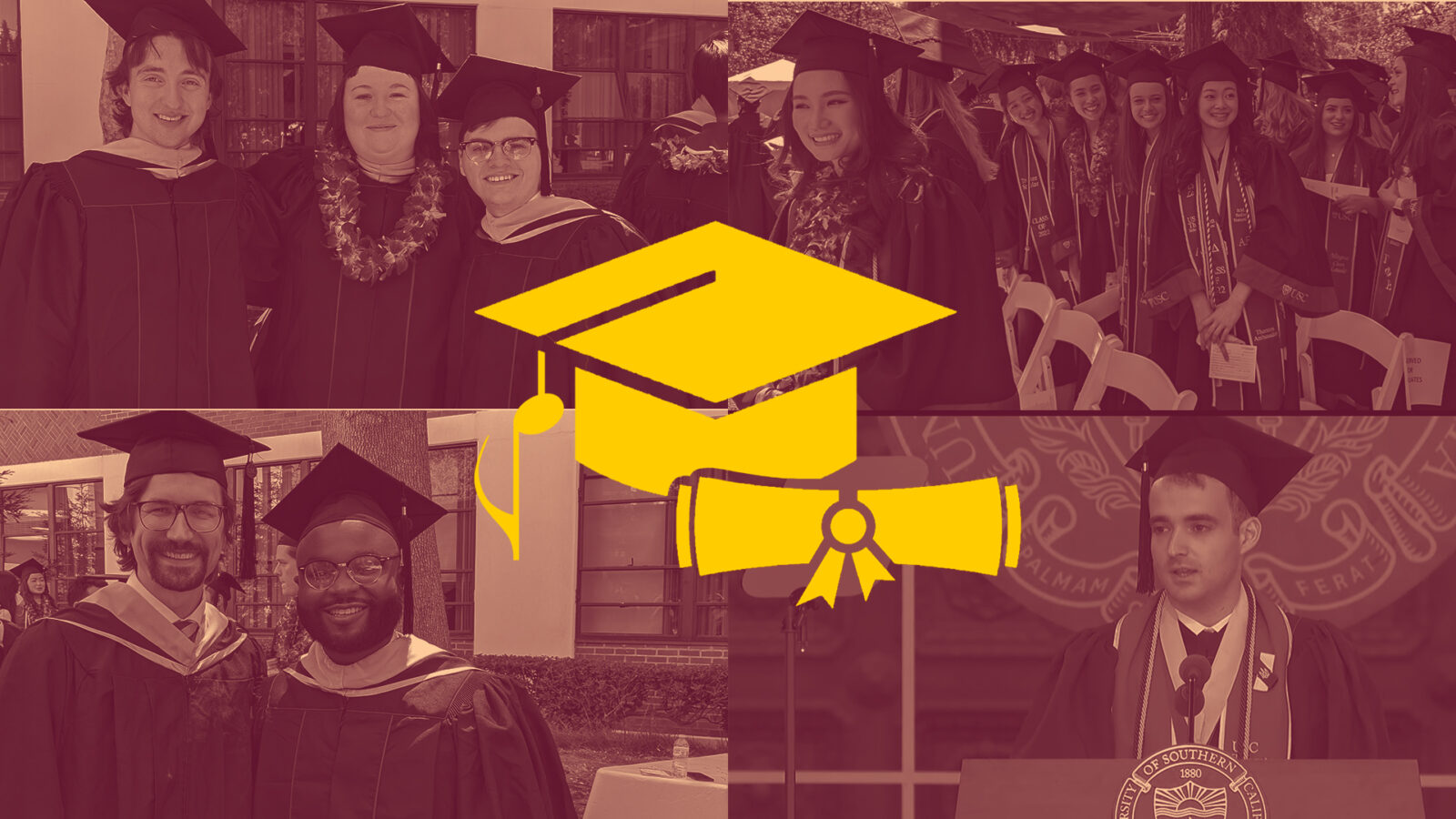 A Time for Celebration
The USC Thornton community returned to campus to honor the Class of 2022.
---
Donning caps, gowns and formal attire, the USC Thornton Class of 2022 graduates, flanked by their friends, family, faculty and staff members, descended en masse upon USC campus last week for a true return to form: three in-person ceremonies honored the achievements of this year's graduating students.
On May 13, events kicked off at 8:30 a.m. at Alumni Memorial Park with the 139th Commencement Ceremony at the University of Southern California. After the graduate procession into the park, USC Thornton Popular Music program graduate Raivyn Hearne ('22) sang the National Anthem.
USC President Carol L. Folt commended the graduates for their hard work and accomplishments, advising them to define their values or "true north," as it will serve as their "indispensable navigation guide" through challenging terrain.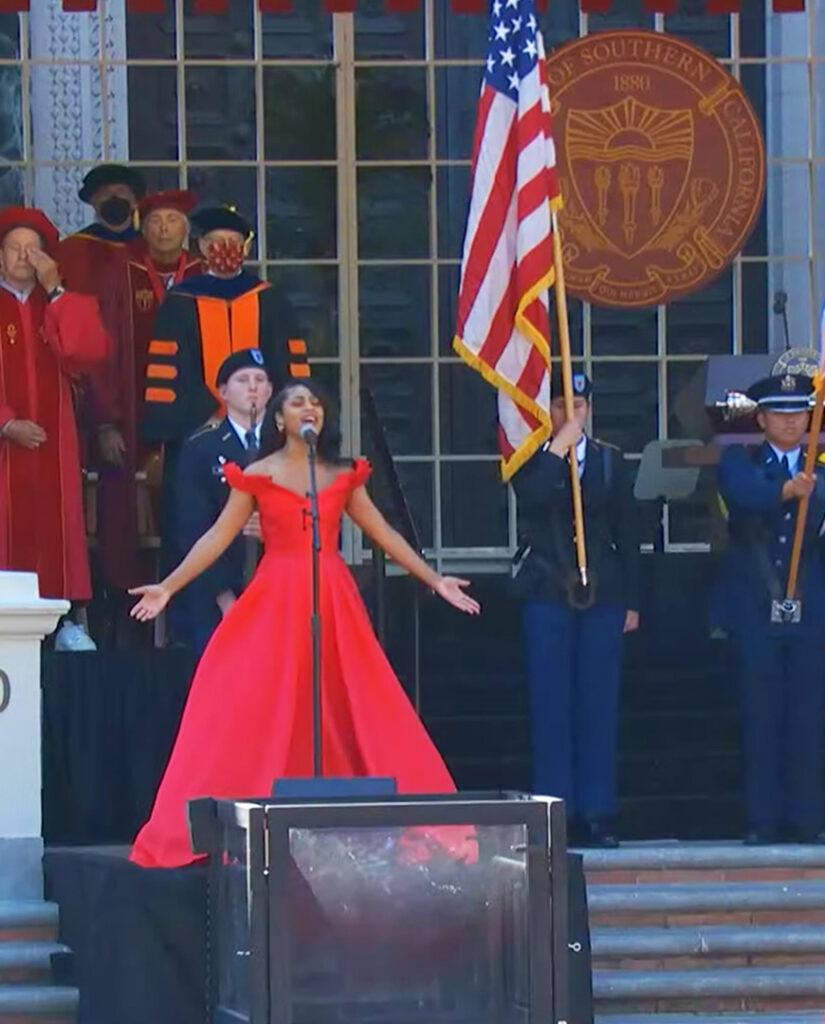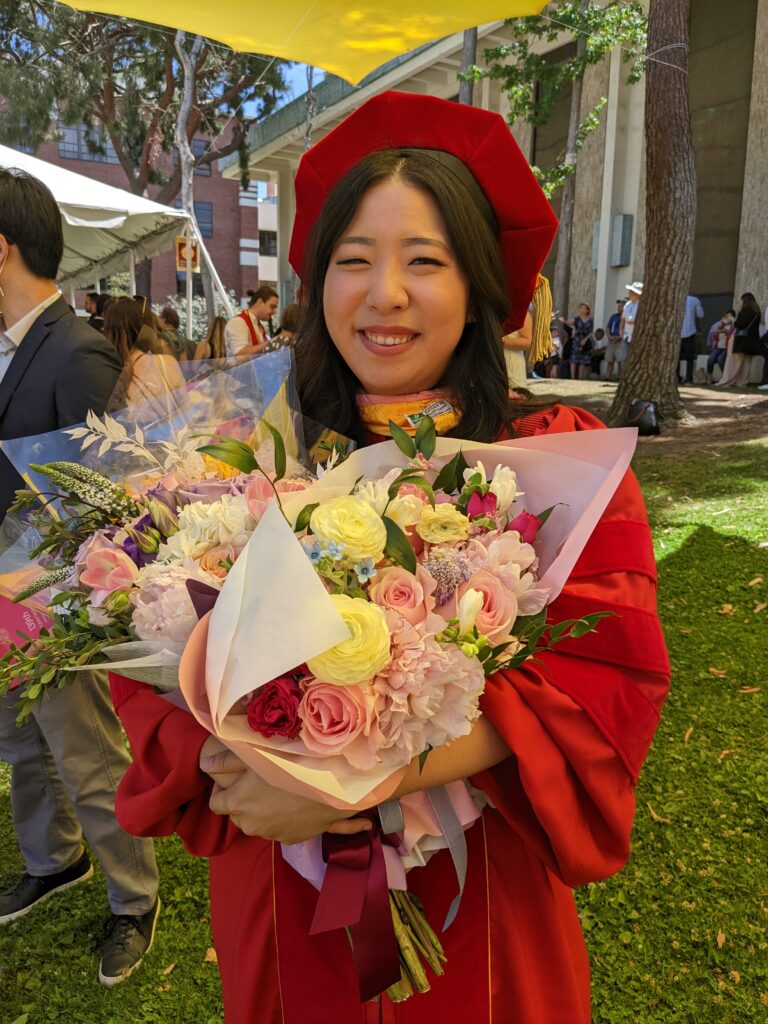 "Challenges and how you face them will become the most essential parts of who you are," Folt said. "Having confidence in your abilities will strengthen you for the struggles we all face."
Thornton Composition program graduate Adam Karelin ('22), a Thornton outstanding graduate and this year's chosen USC valedictorian, presented a poem he composed, which told the story of a cat who senses danger during the earliest moments of Russia's invasion of Ukraine.
After ending the poem with the line "He knew winter must always yield to spring sunflowers in the field," Karelin concluded his speech with a message of hope for his listeners.
"May we all find the strength to face evil with light," he said.
Following the university-wide celebration, USC Thornton hosted a commencement ceremony in Founders Park. Lori Custodero (D.M.A. '97), a professor of music and music education at Teachers College, Columbia University and the winner of this year's Thornton Outstanding Alumni Award, gave an address to the students and their guests, encouraging them to "be playful, embrace challenge and stay curious" as they navigate this next chapter of their lives.
"Music encourages us to challenge and be challenged by each other. Embrace the challenge that developing musicianship provides," Custodero said. "Curiosity is a necessary part of creating change in the world, leading us to ask why and why not. Continue stepping into the unknown."
Kyle Tolbert ('22), a popular music performance graduate with a singer-songwriter emphasis, said he was moved by another moment from Custodero's speech.

"When she said she had to make spaces for herself – spaces that fully accommodated her – where there weren't any, I felt that, especially as a minority. I felt very inspired by that," Tolbert said during a reception that followed the Thornton commencement ceremony.
Evelyn Lee (D.M.A. '22) received her doctoral degree in piano performance, but she said Thornton will remain her home, as she's also a staff member who works with the admissions and student affairs offices.
"This is not the end – it's only the beginning," she said during the reception. "As part of the staff, I look forward to being of service to the students, making sure they're getting all the help they need and making sure I'm communicating their concerns, allowing their voices to be heard."
Javier Morales-Martinez ('22), who studied clarinet performance with Yehuda Gilad, will forever cherish his memories of meeting with his classmates in the studio each week.
"There was that one hour each week where we could all gather together, and it was really beautiful. A lot of the inspiration I've had over the last four years came from my studio mates. That was the most valuable time," he said at the reception.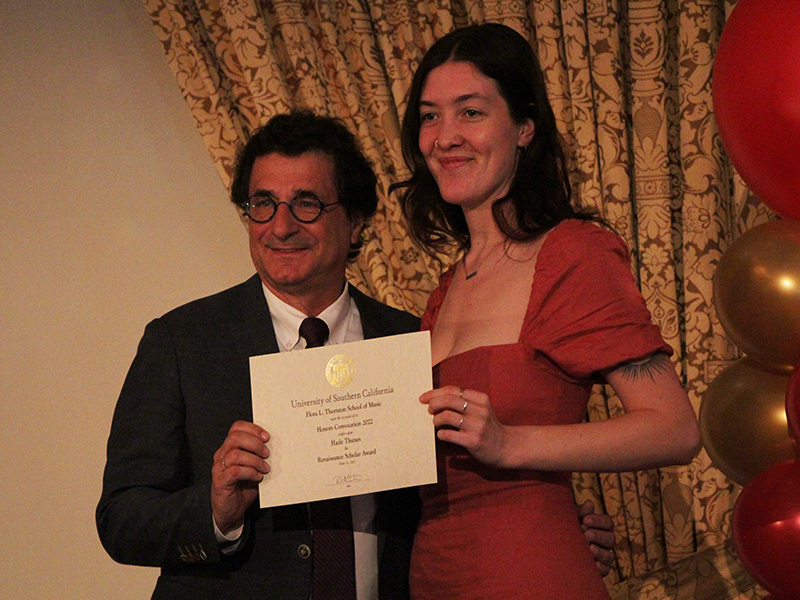 USC Thornton also hosted the 67th annual Honors Convocation at USC Town and Gown on May 12. During this ceremony, students, faculty and staff were celebrated for their dedication and achievements over the last year. Awardees included Thornton Music Industry program graduate Nina Tanaka ('22), who received the Global Award for excelling in her studies both at home and abroad, and Thornton Music Technology Program Chair Rick Schmunk, who received the Ramo Music Faculty Award for his contributions to music education.
Never miss a story
Subscribe to USC Thornton's e-newsletter
Subscribe