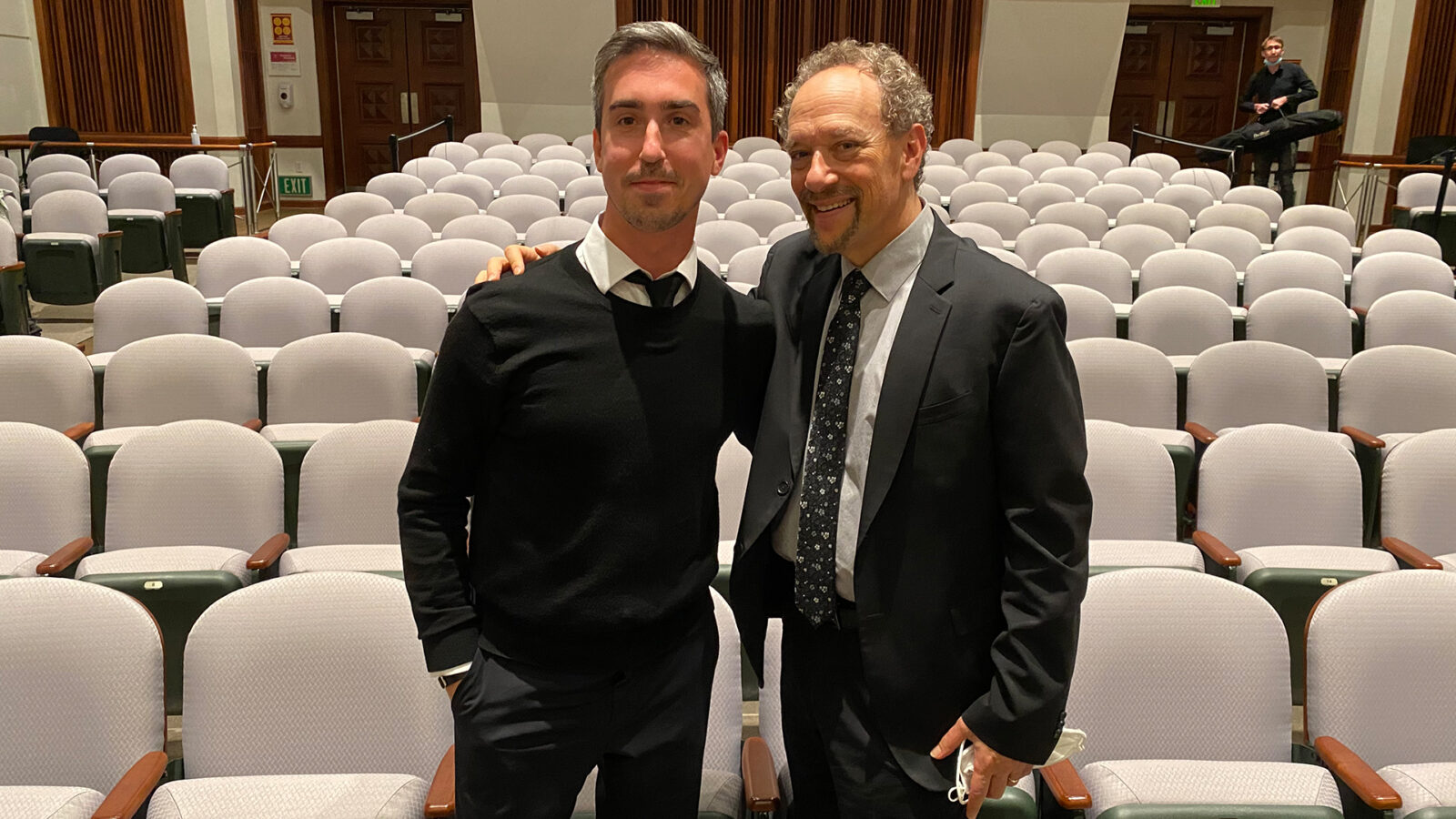 A Tradition of Care
Ukrainian-born USC Thornton Classical Guitar program doctoral student Grygorii Koval and Classical Guitar Program Professor of Practice William Kanengiser team up to provide resources for Ukrainian guitar students.
---
Sometimes, bonds are built between a teacher and student that transcend the classroom, ties marked by mutual respect and trust that persist after final examinations and despite geographical distance. It's bonds like these that motivated Grygorii Koval, a Ukranian-born teaching assistant and doctoral student in the USC Thornton Classical Guitar program, and his classical guitar professor of practice William Kanengiser to raise funds and collect resources for Koval's former guitar school in Vinnytsia, Ukraine.
The pair began brainstorming ways to offer aid to Koval's alma mater not long after Russia invaded Ukraine in late February. When Kanengiser learned of the enduring impact that Koval's former classical guitar teacher, Sergii Selesnov at the Vinnytsia College of Culture and Arts, had left on him, he understood immediately and signed on to help.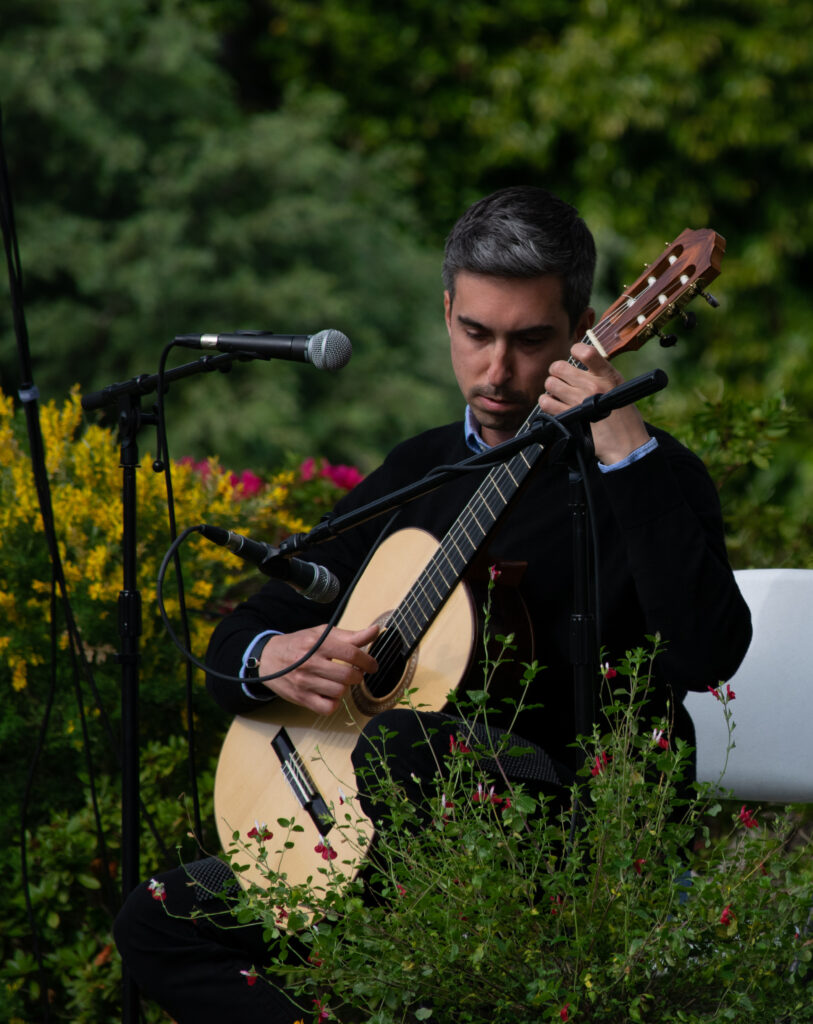 "My motivation was to try to help Grygorii feel like he had some way of helping even though he was so geographically removed," Kanengiser says. "He told me this beautiful story about his teacher – what an important person he was for him, not just as a musical mentor, but as a life coach, essentially."
"When I was 15 and 16, my teacher, Sergii Selesnov, was somebody who could support me through my problems, which seemed to me at those times to be very big, even though they weren't. He helped me to understand how to distinguish between right and wrong decisions to make, or which paths to take," Koval recalls. "Before making an important decision, I would think, 'What would he say? What would he do if he was in my shoes?' And I would know exactly what to do next and how to act."
To aid Selesnov and his students, Kanengiser and Koval established a GoFundMe campaign, enlisting the partnership of Guitar Salon International, a Santa Monica-based purveyor of rare and collectable classical guitars. The campaign raised over $4,000 and brought on partners like Savarez, a French musical string manufacturer who shipped 120 sets of strings to the students in Vinnytsia, as well as Canadian music publisher Les Productions D'Oz, who gave the students credits for online downloads of guitar sheet music. Koval also performed a benefit concert in Larchmont Village, Los Angeles, in April to raise funds and awareness for what his fellow Ukrainians continue to face.
Koval says his efforts aimed to not only provide financial support for those whose lives have been irrevocably changed, but to lend an emotional buoy.
"It was a kind of psychological support so that they felt they're not forgotten there, so they know there is somebody outside who's supporting them and thinking about them," Koval says. "They felt it. This helped a lot with their motivation. They started to record, they took some pictures, they wrote letters. It was very, very important for them."
These efforts became especially poignant this summer after Russian cruise missiles struck the city center of Vinnytsia in mid-July. Koval reports that his former professor and his students were unharmed in the attack.
In helping his student with these relief efforts, Kanengiser was reminded of a piece of advice passed down by his own mentor, Thornton Classical Guitar Program Adjunct Lecturer Pepe Romero. When asked what guitarists should do during particularly dark and fearful days, the classical and flamenco guitarist who has been invited to play at the Vatican and the White House told his pupils to be sure to play Bach every day.
"Pepe said, 'You do it for yourself because it makes you feel ennobled and hopeful, but you also do it for the world.' He believes that you send out vibrations of positivity when you play, and though it can feel like it's falling on deaf ears in the walls in your room, it actually resonates throughout the world," Kanengiser says. "I was reminded of that when Grygorii first told me about these young students who lost the motivation to practice or to enter a competition, which is totally expected when their world is coming apart like that. Hopefully they felt like there are guitar players on the other side of the world who are cheering for them, supporting them and hoping that they keep music alive in their lives."
Kanengiser nods to a tradition within the Thornton Classical Guitar program, where the overall well-being of students is just as important as their playing.
"Pepe not only showed me what it means to be a fine guitarist and a good musician, but what it is to be a citizen of the world and a good human being," Kanengiser says. "The way that he cared for his students and continues to care for his students is something that he passed along to all of us, including my colleagues on the faculty, Scott Tennant and Brian Head. We maintain this culture of creating a supportive, caring and hopefully nourishing environment."
Koval says Kanengiser's support with this fundraiser and beyond shows that just as he was mentored by Selesnov and just as Kanengiser was mentored by Romero, the bond he shares with Kanengiser is one of trust and support for the challenges life can bring.
"Bill is becoming to me somebody who I definitely can trust," Koval says. "I know there is somebody I can call here in Los Angeles."
Never miss a story
Subscribe to USC Thornton's e-newsletter
Subscribe