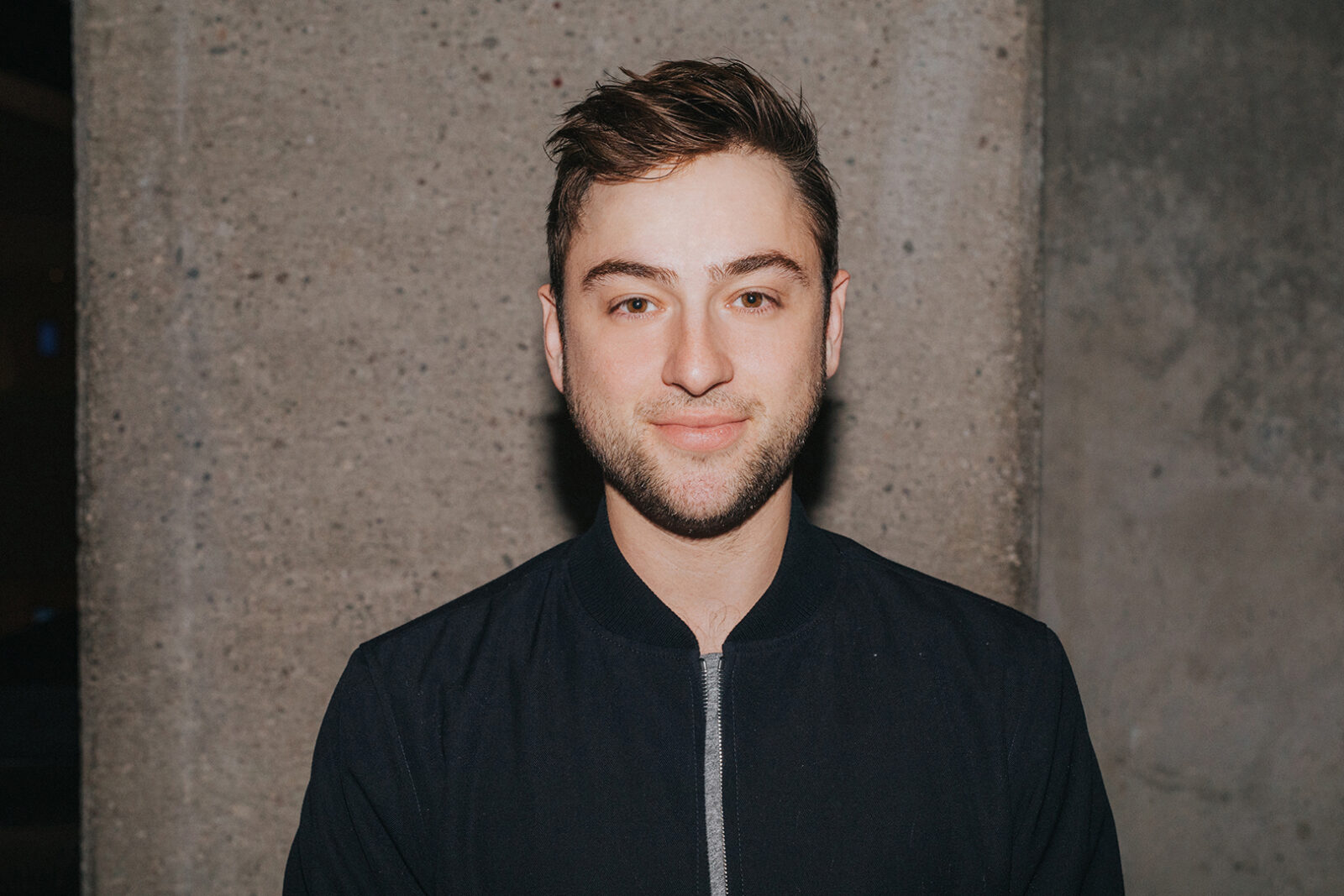 A Wild Ride for Darkroom
Justin Lubliner built one of the industry's most forward-thinking labels behind music's newest star.
---
Justin Lubliner (BS '12) has carved his own path in the music industry, and it's a fast track. At 29, he watched the second artist he signed to his record label, Darkroom Records, sweep the big four categories at the GRAMMY Awards (album, song, record and best new artist) — for only the second time in the history of the Recording Academy's awards. Yes, that artist is music's newest star, Billie Eilish.
Hearing her name called five times (the fifth award being for best vocal pop album) at the GRAMMY Awards on Jan. 26, 2020, Lubliner, in his own words, "went crazy." "I was the guy everyone was looking at, screaming and jumping in my seat, for sure," he said. "It was probably the best moment of my life. It was pretty awesome."
Even at his young age, Lubliner sees himself as a veteran. He started his first music company at 14. At 20, he developed a marketing and PR company while at the USC Thornton School of Music that evolved into The Darkroom. In 2014, Interscope Records CEO John Janick partnered with Lubliner to launch his own imprint — a rare feat for a 24-year-old.
With all of his success thus far, the industry has taken notice. In 2016, Billboard included him in its 40 Under 40 Rising Stars. In 2019, Forbes named Lubliner in their annual 30 Under 30 list of young power players in music for turning "his fledgling music company into a growing force encompassing artist management and its own Interscope imprint, Darkroom Records."
Lubliner thinks his entrepreneurial path has set him apart. "A lot of people my age and friends who are successful in this business started in the management lane. I started my own record label. At the time, there weren't many young label entrepreneurs out there."
Launching Music's Biggest Star
The hits keep coming. Eilish's theme song for the upcoming James Bond film, No Time To Die, recently topped the UK singles chart. At 18, she's the youngest artist ever to sweep the big four at the GRAMMYs, and also the youngest to record a track for the Bond franchise.
Lubliner and his team at Darkroom/Interscope Records have been on a wild ride with Eilish since she was 14 and Lubliner discovered her song "Ocean Eyes" on a blog. He immediately saw something in her.
"I guess it was a combination of her left-of-center and interesting voice and sound, mixed with catchy records, a pop sensibility and this indie appeal that I thought would be magnetic to fans. Also how young she was and how sophisticated her sound was," he said. "And then meeting her, she was wise beyond her years. She had a very unique and complete vision. Hearing her perform for the first time I was just blown away."
Lubliner said his reaction to Eilish's music felt instinctual. "Having met with so many artists in my career, you start to get this instinct radar, and mine was at 100 percent when I met her," he said. He did everything in his power to let her, her team, and her family know that Darkroom was the right partner to help her become the biggest artist in the world.
His instincts were spot on. Eilish's When We All Fall Asleep, Where Do We Go? hit No. 1 in 17 countries upon its release in March 2019 and eventually went double-platinum. The album's songs have been streamed over five billion times on Spotify, and the single "Bad Guy" alone has been streamed over a billion times on the platform.
Leading up to the GRAMMY Awards, Eilish had won two American Music Awards, she was named Billboard's woman of the year (she set a record with 14 simultaneous Hot 100 tracks by a female artist), and earned the honor of Variety's Hitmaker of the Year.
"When you have an artist who is having a lot of great moments in their career, you have to sit back and enjoy each moment as an individual win," said Lubliner, who was prepared for any outcome at the GRAMMYs. "If it doesn't happen, there is still so much to be excited about, and that's kind of how I went into it."
Lubliner said that he and Eilish have a unique business relationship. "I think Billie and I were aligned from the start," Lubliner said. "Being so young I'm sure the expectation was for somebody to come in and change things. I didn't want to change anything; I just wanted to help."
"I trusted her creativity and her vision and her music, and she trusted my ideas to build her and get her music heard by the public. We just had a great yin and yang," he said. "And when I say we, I mean not only Billie but Billie's managers and my team and myself."
In her Variety Hitmaker of the Year speech in December 2019, Eilish said: "I wanna thank my team, my label, managers Danny [Rukasin] and Brandon [Goodman], who have always trusted me, my label guy Justin [Lubliner, of Darkroom Records], who was like the only person I trusted to begin with — and that's no shade to anyone, but I feel like he saw something in me."
That trust in her creativity is evident in the fact that, as far as A&R goes, Lubliner is "incredibly hands off." "Billie is very self-sufficient with Finn [her brother and producer Finneas Baird O'Connell] when it comes to the music process," he said. Darkroom's first client, dance/electronic musician and producer Gryffin, coincidentally studied engineering at USC. According to Lubliner, he is like Eilish in the sense that "he is very in control of the way he creates his music." Gryffin sold out two headline shows at the Shrine this past fall, which in total was 10,000 tickets.
Both the Darkroom/Interscope team and Eilish's management worked hand-in-hand on the strategy behind her development as an artist, Lubliner said. His team's role involved creating the story for the global territories and meeting with different label partners within the Universal system across more than 20 countries. The team created custom campaigns for Spotify, Apple, Amazon, and YouTube, both domestically and internationally. While devising a strategy for releasing the songs online and on the radio, they maintained a strong focus on the album versus singles.
"We spent months and months figuring out the right strategy, focusing a ton of our attention on streaming, on catering to a new generation of music listeners and figuring out how we best reach those people in a unique way that hasn't been done before," Lubliner said. 
Getting a Head Start at USC 
Eilish's managers told Music Business Worldwide that Lubliner's talents have been instrumental in their client's success. "Justin understands the very careful, but impactful, artist development process like someone who's been doing it for a lot longer than his age would suggest," Rukasin said. Goodman praised his "creative and forward-thinking approach to artist development," adding, "Justin is a machine. He is amazing at utilizing all of the resources around him to make the most out of every opportunity."
That resourcefulness is a skill Lubliner started honing while he was an undergrad at USC Thornton. A New York City native, Lubliner said he chose USC because he loved the school and the Music Industry program, and the location was also ideal for his career goals. "I really wanted to work in the music industry while I was in school. I wasn't so particular about meeting success right away, I just wanted an opportunity to be working on things and be able to take meetings in L.A. while I was at school."
Early on, he started a blog and a promotional marketing agency for EDM artists — this agency evolved into Darkroom. "As the genre started to become really big, I was kind of the first publicist and marketing arm for these European-based artists because they weren't signed to labels, they didn't have publicists. There were really no major publications covering dance music; it was just blogs."
While taking classes, he was writing press releases and pitching blogs, and tapping into the talent and experts around him. "You have a ton of creative people around you, photographers and musicians, that you can lean into for different things. There are law professors that can help you with contracts when people are sending letters of intent or contracts for you to sign," he said.
"Having management clients and marketing projects that I could work on while I was in college, I was able to utilize the Music Industry program's resources to help me understand what I was doing and get a head start at a really early age."
Never miss a story
Subscribe to USC Thornton's e-newsletter
Subscribe