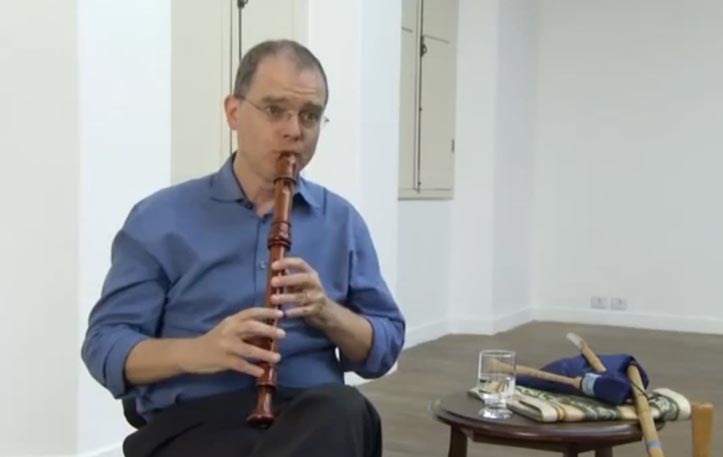 Adam Gilbert discusses the history of musical rhetoric
USC Thornton faculty Adam Gilbert, director of the Early Music program, traveled to Brazil in November where he was interviewed on the Brazilian television show Programa Harmonia. Hosted by Samuel Guimarães, the show features the work of great composers and aims to spread the knowledge of the classical music scene. Gilbert spoke to reporter Mariana Lima about the history of musical rhetoric, focusing on German Baroque and explaining how rhetoric relates to music.
"Rhetoric refers to the art of speaking beautifully or of convincing people in an argument," he said. "[It] also could refer to speaking in a court case, giving a great speech to honor somebody, but it could also be poetry. This was where you see most of music and rhetoric engaging together."
Gilbert, artistic director of the Ciaramella Ensemble, went on to speak about written and spoken poetry, which was referred as a "second rhetoric" in the Middle Ages, and how it shaped early music.
"Around 1400, 600 years ago, there came a new idea that poetry was also a species of music because it had number in its meter."
Music, he explained, was used in the 16th and 17th century to expand the meaning of the written word.
"It was believed that the action of the music would reach you and you would then feel that passion that it invoked in your system," Gilbert said.
Never miss a story
Subscribe to USC Thornton's e-newsletter
Subscribe