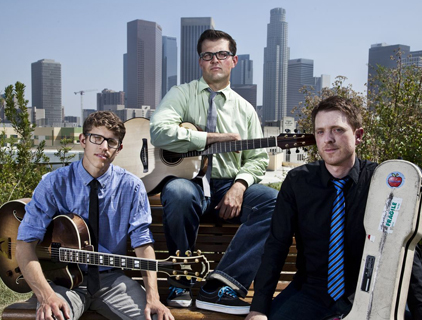 After 10-year career, New West Guitar Group looks toward the future
"Through the entire existence of the group, our connection to USC has always been there."
When students graduate from USC Thornton, the ensembles and bands they formed while in school don't always disappear. In fact, many student groups go on to have real world success long after leaving campus.
In the case of New West Guitar Group, formed by a group of Studio/Jazz Guitar majors at Thornton in 2004, the band's on-campus collaboration has transformed not just into success, but into a decade-long performance career. The band is a mainstay in the jazz genre, with publications like Acoustic Guitar praising the group for its mastery of a sound that explores everything from "elegance and fragile introspection to exhilarating swing and gritty blues."
New West founding member John Storie ('06) credits the group's staying power to the skills he learned while a student in the Studio/Jazz Guitar program.
"We came out of a department that was really about the guitar," he said. "The Studio/Jazz Guitar program at USC really exposes you to all the different ways that guitar is used in both a commercial and artistic sense. It gave us the idea of establishing a network, promoting ourselves and finding performance opportunities. That's become a model for how we've sustained the group."
Initially formed as a quartet as a part of the program's ensemble requirements, New West's original lineup also included Perry Smith ('05), Brady Cohan ('07) and Matthew Haze ('06).
"At first, we didn't really know what to do for our ensemble," explained Storie. "Students decide what the scope of their ensembles will be, but all we knew was that we wanted to write original music."
During these early days, the group mostly performed arrangements of jazz standards while beginning to compose original works and seek out performance opportunities. At the insistence of a professor, the group entered the University of North Texas Jazz Festival on a whim and won the competition's top prize.
Inspired by their win, the members of New West began plotting out the group's next step: Recording an album.
"There weren't any groups doing what we did at the time," Storie said. "In the jazz guitar world, the guitar ensemble format isn't taken very seriously, or it's presented in an 'All-Star' band level. We wanted to capitalize on our uniqueness and be a band that wasn't about the players, but was about the sum of its parts."
The group was awarded a grant from Thornton to help defray the costs associated with recording the album. Their efforts were warmly received by the jazz community, and New West suddenly found themselves thrust into the spotlight and presented with offers to perform around the world, including a brief tour of Japan in 2005.
Since then, New West has shown no signs of slowing down. According to Storie, the group aims to perform at least 100 concerts each year — an ambitious schedule that has led to several lineup changes over the band's ten year existence. Currently, the group is a trio featuring Storie, Smith and fellow Thornton alumnus Jeff Stein ('10).
"Jeff has brought a really young, fresh vibe to the group," Storie said. "There were a lot of guitar players interested in joining New West, but he was far and above the best for the job. Plus, it was nice to keep that USC connection."
New West released its fifth studio album, titled Big City, in 2013; another album, featuring collaborations with several New York-based jazz vocalists, is scheduled for a 2015 release. This August, the group returns to Los Angeles to host a summer guitar workshop for young guitarists. In the meantime, The group continues to tour around the world, with dates scheduled through the end of next year.
Despite the group's packed calendar and newfound success, Storie still credits USC with giving New West the tools it needed to create and sustain a lasting performance career.
"Through the entire existence of the group, our connection to USC has always been there," he said. "Hopefully we can return to campus sometime soon. It'd be nice to get back to our roots and play a show where New West began."
– Katrina Bouza
Never miss a story
Subscribe to USC Thornton's e-newsletter
Subscribe