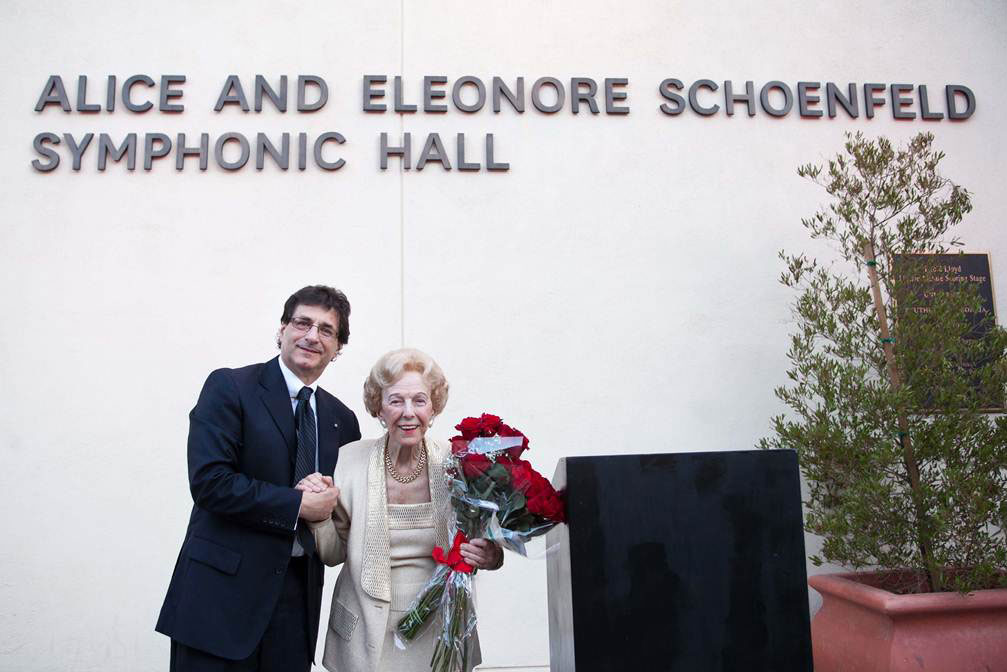 The Alice and Eleonore Schoenfeld Symphonic Hall
"Alice and Eleonore Schoenfeld have shown a remarkable commitment to the students of our Thornton School of Music," said USC President C. L. Max Nikias.
Alice Schoenfeld, holder of the Alice and Eleonore Schoenfeld Endowed Chair in String Instruction and a professor of violin instruction and performance for more than half a century at the USC Thornton School of Music, has committed $3 million to create a new symphonic hall for the school, the Alice and Eleonore Schoenfeld Symphonic Hall.
The hall will be named for her and her sister, Eleonore, who was the holder of the Gregor Piatigorsky Chair in Violoncello and a USC Thornton professor from 1959 until her death in 2007. As the Schoenfeld Duo, the sisters were internationally renowned classical performers and for decades toured the world's great music halls.
The 3,700-square-foot Alice and Eleonore Schoenfeld Symphonic Hall was dedicated on Oct. 28. A campus open house and student concert was held Oct. 29.
"Alice and Eleonore Schoenfeld have shown a remarkable commitment to the students of our Thornton School of Music," said USC President C. L. Max Nikias. "Through their dedication as teachers, and their generosity as philanthropists, they have nurtured some of the greatest musicians in the world, while creating an extraordinary legacy for themselves and for USC Thornton."
USC Thornton Dean Robert A. Cutietta said that it is "time the USC Thornton Symphony and Wind Ensemble have a custom-designed space where they can rehearse. These two ensembles are recognized as among the best collegiate groups in the country and it just didn't make sense that we didn't have a dedicated orchestral rehearsal hall."
The gift from Alice Schoenfeld represents significant support for The Campaign for the University of Southern California, a multiyear effort to secure $6 billion or more in private philanthropy to advance USC's academic priorities and expand the university's positive impact on the community and world. A key component of the campaign is a goal to raise $1 billion for immediate support for capital projects.
The facility, which was previously used by the USC School of Cinematic Arts, has been redesigned with the help of an acoustician and is the first dedicated orchestra rehearsal hall in USC Thornton's long history. The school was founded in 1884 and consistently ranks among the finest conservatories and schools of music in the world. Graduates of the school secure positions with major orchestras, ensembles, recording studios and music industry firms, and perform on stages and in studios around the world.
The newly refurbished hall has complete audio and video-recording capabilities. Cutietta said he believes USC is the only university in the nation with orchestral recording capability of this quality.
"I give students more than I have to do," she continued. "I give long lessons, get them ready for their concerts and take a personal interest in them."
Her students reciprocate, with flowers and heartfelt thank you notes. She shared one from current violin performance student Michelle Tseng, who wrote: "My time here with Professor Schoenfeld has been priceless. She is such a loving, unbelievably devoted and nurturing teacher and human being, and I am so thankful for the experience of being in this studio and learning from such an inspiring woman and violinist."
To read more, click here.
Never miss a story
Subscribe to USC Thornton's e-newsletter
Subscribe