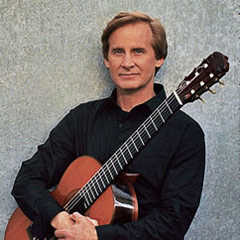 Alumni Spotlight: Christopher Parkening
America's preeminent classical guitarist, and an ardent fly fisherman, Christopher Parkening is a sought after performer, teacher, and leader in the music community. He was also named the Thornton School of Music's outstanding alumnus in 1987.
Parkening got his start at USC in a somewhat unusual way. When he was admitted to USC in 1967, the dean at the time offered him a scholarship to attend, but informed Parkening that there was not a guitar teacher on the faculty. But, the dean suggested Parkening study the interpretation of some of the Bach cello suites that were transcribed by Segovia for guitar with some of the other musicians on the faculty.
"What I thought was a deficit – no guitar teacher – ended up being a wonderful blessing," says Parkening. "I got to study with the legendary cellist, Gregor Piatigorsky."
"For the first time I heard the critiques of these great musicians from the sole perspective of the music with no consideration of guitar technique," continues Parkening. "They challenged me to transcend a piece's technique in favor of interpretation."
In his sophomore year, Parkening was asked to start the guitar department at USC. "What a great honor that was, and I remember another blessing as well—I got a faculty parking pass!" says Parkening.
Since then, Parkening's affiliation with USC has proven very valuable. "When you are a USC alumnus, the professional music world takes you seriously," he says. Parkening recalls juries with great musicians such as Jascha Heifetz and Gregor Piatigorsky, which further demonstrate the quality of instruction and the experience he had at USC.
Parkening's career has had many highlights, and he recalls a few special moments: performing at the White House for President Ronald Reagan; accepting Andrés Segovia's Lifetime Achievement Award at the televised Grammy® Awards, and the following year, performing with soprano Kathleen Battle when they were nominated in the "Best Classical Recording" category; performing on "Live from Lincoln Center" with Placido Domingo; and at Carnegie Hall's 100th Anniversary Celebration performing the famous "Concierto de Aranjuez" by Joaquín Rodrigo.
Even with these amazing achievements and opportunities, Parkening has one most important achievement. "If I had to cite one thing that stands out to me, it was Andrés Segovia's commendation of my playing," says Parkening.
Since 2002, Parkening has been on the faculty at Pepperdine University, where he has the opportunity to work with students studying classical guitar.
"My mission at Pepperdine University is simply to help students pursue the highest levels of personal excellence in mastering the classical guitar with the ultimate purpose of inspiring them to use their unique talents to the best of their abilities for the glory of God," says Parkening.
"In the classical guitar world in recent years, there has been a growing trend to sacrifice the legacy of beauty, warmth and lyricism in favor of a colder, mechanistic, purely intellectual performance. It is my goal to pass on to my classical guitar students at Pepperdine that legacy left by the great Spanish guitarist, Andrés Segovia."
Parkening says he values the chance to work one-on-one with each student and follow through with the teaching process and mentorship, unlike the many master classes he has given over the years.
"Mentoring my students and in a small way helping guide them in their careers has been a joy and a truly rewarding experience," he says.
Parkening also established the Parkening International Guitar Competition held at Pepperdine University, a world-class guitar competition that rewards musical excellence. In the competition this year, taking place May 31-June 2, many of the greatest guitarists in the world age 30 and under will come to Pepperdine to compete. Preceding the adult competition, there is also a Young Guitarists Competition for those 17 years of age and younger.
"I asked the great film composer John Williams if he would write a solo piece that would be world-premiered at this year's competition," Parkening says. "He kindly obliged and his piece will be performed on the final night of the competition, June 2."
Though these activities keep Parkening busy, he does still try to make time for fly fishing. He and his family enjoy spending time in the summer at their cabin in the High Sierras. Parkening's son Luke, 8, seems to be following suit. "Last summer, among our family members, Luke caught the biggest trout – 25 inches long – which he released," says Parkening. "He is not only an accomplished fisherman for his age, but quite a fine little musician as well."
Fly fishing is more than just a hobby for Parkening – it's one of his great passions as well. "Being up in the mountains with a beautiful stream, the sunsets, and at night on the cabin porch at 7,500 feet looking at the stars and the Milky Way… It not only inspires me with the beauty of God's creation, but 'recharges my batteries' as well," he says.
Never miss a story
Subscribe to USC Thornton's e-newsletter
Subscribe