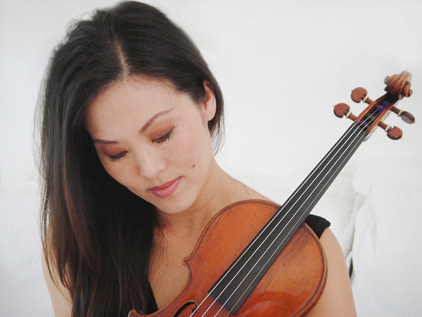 Alumni Spotlight: Deborah Kim
Deborah Hyoran Kim has performed internationally as a concert violinist and chamber musician. Growing up in a musical family, Kim is fulfilling her family's legacy by excelling in violin performance and teaching.
Kim says that her time at USC helped to open her eyes to the wide range of possibilities within music. Though she was classically trained, the options for teaching and performing contemporary music helped to shape her experience.
Not surprisingly, her career is multi-faceted – allowing her to balance many aspects of music that are important to her.
She currently serves as concertmaster of the Brentwood Westwood Symphony Orchestra and the Los Angeles Camerata Orchestra. She has performed in venues across the world, and is a sought after violinist. She recalls performing at Walt Disney Concert Hall to a full house and feeling the energy of that experience.
Kim is also performing regularly with an ensemble that blends classical and rock music. She performs this fusion weekly in Huntington Beach, and enjoys the opportunity to try new things and explore different aspects of music.
Performance is exhilarating, says Kim, but it was not the only thing she wanted to pursue.
Teaching also plays an important role. She has been on the faculty of Junior Chamber Music since 2009, and in the summer of 2011, she was invited to teach in Beijing, China. There she worked with students during a two-week music festival. For eight years Kim also directed a private music school – where seven of the 10 teachers were USC alumni – and she has been teaching privately for more than 20 years.
In addition, Kim serves as President of the Board of Trustees of the Brentwood Westwood Symphony Orchestra, which she finds very exciting. She says seeing the enthusiasm of the board and working with community partners has been very rewarding.
Kim notes the USC connections she has made over the years are very prevalent. She says the camaraderie among musicians from USC is welcoming – a connection that exists in what can be a competitive space. She notes that there is a lot of support for one another and a pride in their connection.
Kim's career continues to thrive, and she is happy that she has explored the different paths available within the music umbrella. The opportunity to delve into the many aspects of being a musician has made her a stronger performer and teacher, and continues to influence her pursuit of a balanced musical career that both challenges and inspires her.
Never miss a story
Subscribe to USC Thornton's e-newsletter
Subscribe