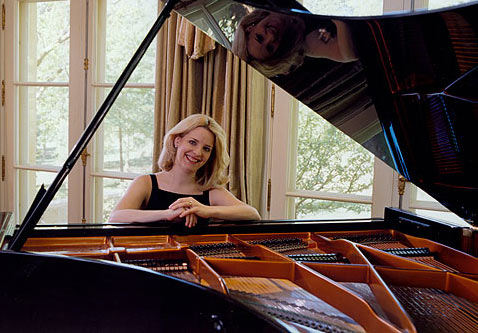 Alumni Spotlight: Margery McDuffie Whatley
By Alexandria Coronado MMEd '95, DMA '00
Those of us who were on campus in the early 1990's fondly recall a sweet, southern society belle, whose laugh rang all over Ramo Hall. If you don't remember the southern accent or distinct laugh, you may recall a blonde with a pregnant cocker spaniel in tow.
That southern belle was Margery McDuffie Whatley, who now lives in Missoula, Montana, performs all over the United States, and has an extensive recording list.
A student of John Perry, Margery received the Most Outstanding Piano Doctoral Student award in 1994, secured a job as a tenure-track professor at the University of Huntsville, Alabama, and eventually became Chair of the Music Department. While at UAH, colleagues and students awarded her the University's Distinguished Teaching Award, UAH's most prestigious faculty award.
During that time, she fell in love with, and married Terry Whatley, a well-respected oral surgeon. The wedding, which took place in her hometown of Macon, Georgia, was described by the local townspeople as "the social event of the year." A few years later, she gave birth to twin girls, Kendall and Lindsay.
The family relocated two years ago to Missoula, Montana, where Margery most recently performed Astor Piazzolla's "Libertango," for the University of Montana's School of Music keyboard fundraiser, "Pianissimo!"
The USC Thornton Alumni Association salutes you and your contribution to music, Margery!
Never miss a story
Subscribe to USC Thornton's e-newsletter
Subscribe