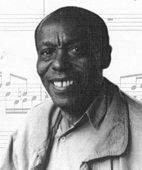 Alumni Spotlight: Marvin Hayes
By Elaine Murphy '96 DMA '07
Marvin Hayes (1926-1995) was a USC Thornton alumnus of the vocal arts program whose remarkable career included performing, teaching and recording. A North Carolina native, Hayes was born into a musical family where almost everyone sang or played an instrument. His choice to pursue a degree in vocal performance at USC, however, took him far from home.
While still a student at USC, Hayes began working professionally in the music industry. Otto Preminger came to campus to audition singers for his film version of Carmen, Carmen Jones. The director was looking for trained singers whose voices could be dubbed in for some of the actors in his film. Both Hayes and Marilyn Horne '53 were selected. Horne dubbed the part of Dorothy Dandridge as Carmen and Hayes dubbed the part of Joe Adams who played Husky Miller, a prize fighter. Preminger had his film storyline updated to appeal to modern day audiences and the text was set in English; the movie was released in October of 1954. Hayes also had an opportunity to work with Igor Stravinsky while at USC. He played Nick Shadow (the devil) in The Rake's Progress and had a chance to be heard by the composer himself!
After USC, Hayes traveled to France to study with Pierre Bernac in Paris. He also received coaching from Francis Poulenc. He frequented the composer's apartment and personally received from Poulenc some of his music for baritone. While in Europe, Hayes entered the prestigious Geneva competition and won second prize. Hayes then returned to the United States and enrolled at the California Institute for the Arts and earned a Master of Fine Arts degree in vocal performance.
Hayes soon began to develop his reputation as a concert artist. His wife, Althea Waites-Hayes (an outstanding concert pianist in her own right), shared that, "He auditioned for Leopold Stokowski and ended up singing the solo part in Beethoven's Ninth Symphony with the [Philadelphia] Orchestra. He received many opportunities because of his talent and during the 1950s and 60s, when racism and segregation in the arts was a tragic aspect of life in America, this was a major breakthrough. Marvin rose above these obstacles and looked at them as a chance to do something exceptional. He felt like he had a mission."
Hayes had the ability to perform varied styles of music from the Baroque to modern periods. He appeared as a soloist and as a chamber musician throughout the U.S. and Europe. He performed with major symphony orchestras including the Philadelphia Orchestra under Eugene Ormandy, the Boston Symphony under Charles Munch, the London Symphony under Andre Previn, the Chicago Symphony under Lukas Foss and the Los Angeles Philharmonic under both Zubin Mehta and Erich Leinsdorf. He also appeared on occasion at the Hollywood Bowl at the invitation of Ernest Fleischman, at the Ojai Chamber Music Festival and on the Los Angeles County Museum Monday evening concert series. He recorded madrigals and other early music for Decca Records with the Abbey Singers in the late 1960's and early 1970's.
Hayes was also an accomplished vocal teacher and trained many students. He served on the faculty of Cal Arts from 1965 to 1979. Later, he was a member of the Pomona College Voice faculty from 1981-1995. He participated in many faculty recitals, especially at Cal Arts where he often performed contemporary music written by his colleagues such as Mel Powell and Morton Subotnick. A number of his students have gone on to enjoy success in the music industry.
Hayes met his wife, Althea Waites in 1991 through a mutual friend (another singer). A classical concert pianist, she trained at the Yale School of Music and teaches at Cal State University/Long Beach. The two found that they had a lot in common since Waites had extensive professional training and performed a great deal and traveled. They also both performed the music of modern composers and attended concerts. They soon became friends and found that they were spending time together; the couple decided to marry in 1993.
Never miss a story
Subscribe to USC Thornton's e-newsletter
Subscribe