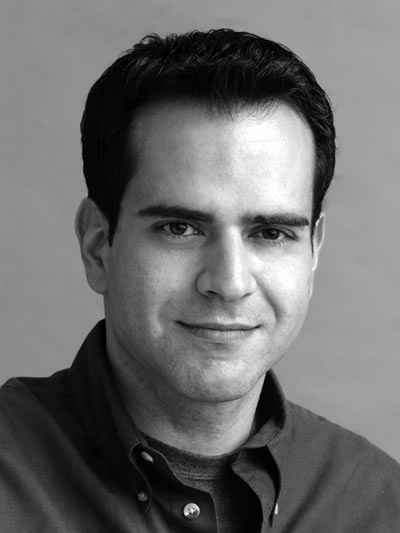 Alumni Spotlight: Nick Stoubis
Each year, the USC Thornton School of Music recognizes one member of its illustrious alumni who has made significant achievements in the music profession. The Outstanding Alumnus Award was presented this year to Nick Stoubis, who earned his bachelor's and master's degrees in guitar performance at USC Thornton, and was selected as Outstanding Graduate with each degree. Stoubis, now on the faculty as a assistant professor of practice at USC Thornton, is an accomplished performer, composer, session-player, transcriber, author and educator.
Born in Canada to Greek-immigrant parents, Stoubis has always had an interest in music, from playing with a toy guitar at the age of three, to being around music often as a child. At age 12 he convinced his father to buy him his first guitar, and became hooked. He played constantly and with determination, and he says it has been a central part of his life ever since. Stoubis played throughout Canada in his early career with artists including: Nazareth, Bachman-Turner-Overdrive (B.T.O.), Trooper, Prism, Barney Bental, and Lee Aaron before coming to Los Angeles to attend USC.
"I have so many wonderful memories of USC while I was a student," says Stoubis, who credits his education here with much of his success. He recalls his private lessons with Joe Diorio as particularly impactful. "He would always expose me to something that would get me inspired. It would always get my brain working and get my creativity sparked," he says. "Joe managed to get me to think in new ways about old things, and I still tap into that lesson often knowing that if he could do that for me, I can find ways to achieve that on my own too."
Today, Stoubis is sharing his passion with students at the USC Thornton School of Music, where he has taught since 1997. "I love the daily routine of interacting with students," he says. "There are so many wonderful people that study at USC, and I love getting to spend time with different students, getting to know them and finding ways that I can share information with them and have them discover and reveal their best."
He has also had an active recording career, including a solo album of Greek music released in 2003, titled Mosaic: The Music of Greece. Stoubis is particularly proud of this album which connects with his Greek roots, and he worked on each aspect of the release himself. In the last several years, Stoubis has focused more on recording than performance, and he has found this to be a rewarding experience.
"I really enjoy the process of starting with a small musical idea and realizing it and developing it further in the recording studio," he says. "I also enjoy the stylistic freedom of recording because I can change from genre to genre with each new recording."
As an alumnus, Stoubis says his affiliation with USC has played an important role. He says he is consistently in contact with his classmates, and almost daily receives a call or email from someone whom he first met at USC. The relationships formed here have stayed with him, and continue to have a positive influence on his career. USC Thornton alumni can keep up with his flourishing career here.
Never miss a story
Subscribe to USC Thornton's e-newsletter
Subscribe