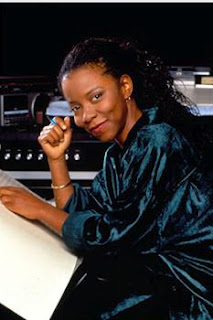 Alumni Spotlight: Patrice Rushen
By Elaine Murphy '96, DMA '07
USC alumna and Thornton faculty Patrice Rushen, MM '76, is a Los Angeles native whose relationship with USC began early on. "My training was USC-based. I started out as a child in the Early Childhood Development Department. The range of information taught allowed for me to learn to do other things like work as the musical director for the Grammy's and the Emmy's. The whole thing was to get started early and to get the support." When asked if she remembers what was taught: "Oh yes. We learned basic music fundamentals: that quarter notes were walking notes and eighth notes were running notes. Dotted eighth notes were skipping notes. We responded using our bodies and our hands. We used scarves and they had us move and dance. It was all about how music makes you feel and react. We heard music played in a major key and we learned to call it happy; we heard something in a minor key and we learned to call it sad. That has remained with me [to this day]. As a film composer, that helps to write the music to go with a picture and to create a feeling."
Rushen was involved in music all through school and played flute in the marching band and piano in the jazz band. "I was in Honor Band at Locke High School; we marched in the Rose Bowl Parade!" The band, an outstanding music program with lots of community support in South Central Los Angeles, provided many opportunities to perform. "I met Quincy Jones when I was in High School. He was involved in music education and he was often a clinician at competitions. I played piano in my school's jazz band. I was also already starting to write music and experimenting with arranging. We played in a lot of competitions. [Quincy and I] kept running into each other at these competitions. Finally, Quincy came over to talk to me after one of these competitions. 'You really blow me away. What do you want to do?' I told him 'I want to write.' He said 'Well, you know what that means. You will have to be especially good. You are going to have to learn a lot. You need to diversify. You need to learn all the styles.' From that point on, we stayed in touch."
Rushen decided to enroll at USC for her college studies and she selected studies in music education and piano performance. Still in contact with Quincy Jones, she asked, and took his advice. "My dream was to study with him. He suggested a teacher, Albert Harris. He ("Q") gave me pointers from afar. It wasn't really direct. He'd tell people to call me." Rushen actually began her recording career while still a student. She wrote music for her albums, played the piano, and sang. In 1972, she won the competition at the Monterey Jazz Festival and in 1973 signed with her first record label, Prestige Records. She went on to work with other record companies including Elektra, Arista, Sin-Drome, Discovery, Aix and Warner. One of her biggest hits, "Forget Me Nots", went on to become the basis for the theme song of Sony Pictures' Men in Black; it also won an ASCAP Award for the Most Performed Song in Motion Pictures. In addition to her session work, Rushen managed to break into the highly coveted field of composing for film and television. "I'd always wanted to write for film and television. I was playing a lot and writing for my own albums. Then, situations came up that pointed me towards film and television. I did the music for the Steve Harvey Show for five years." She also wrote scores for Jack's Place, Brewster Place, Story of a People and Robert Townsend's HBO comedy specials.
She is the first woman to work as the musical director on a number of major award shows including the NAACP Achievement Awards, the Grammy's, the Emmy's and the People's Choice Awards. Her first big award show was for the NAACP in 1989. "It was really, really tough. The producer saw me work on another show and he was ready to make a change. That show was very performance based. It was hard – everyone was having to change their approach. We did some amazing shows (12 years) and with great talents! It was a great experience and I was given a lot of latitude. After that, I went on to the Emmy's." While working on a show can be stressful, she says 'At the end of the day, it's the quality that counts.' "
Rushen is currently working on a CD featuring her both singing and playing the piano. For the second year in a row, she will be the musical director for the Thornton School's Charles Dickens Dinner. "It was a wonderful experience last year. I've been asked to do it again. It will be fun and the event will be remarkable. I love the inclusion of the different areas of the music school. Every aspect of the school is included from opera to jazz." Rushen is also working as musical director on a recital for Jubilant Sykes that will take place this Friday, November 14, 2008 at the New Eli Broad Stage in Santa Monica.
Rushen is currently chair of Thornton's Popular Music program.
By Elaine Murphy '96 DMA '07
Never miss a story
Subscribe to USC Thornton's e-newsletter
Subscribe