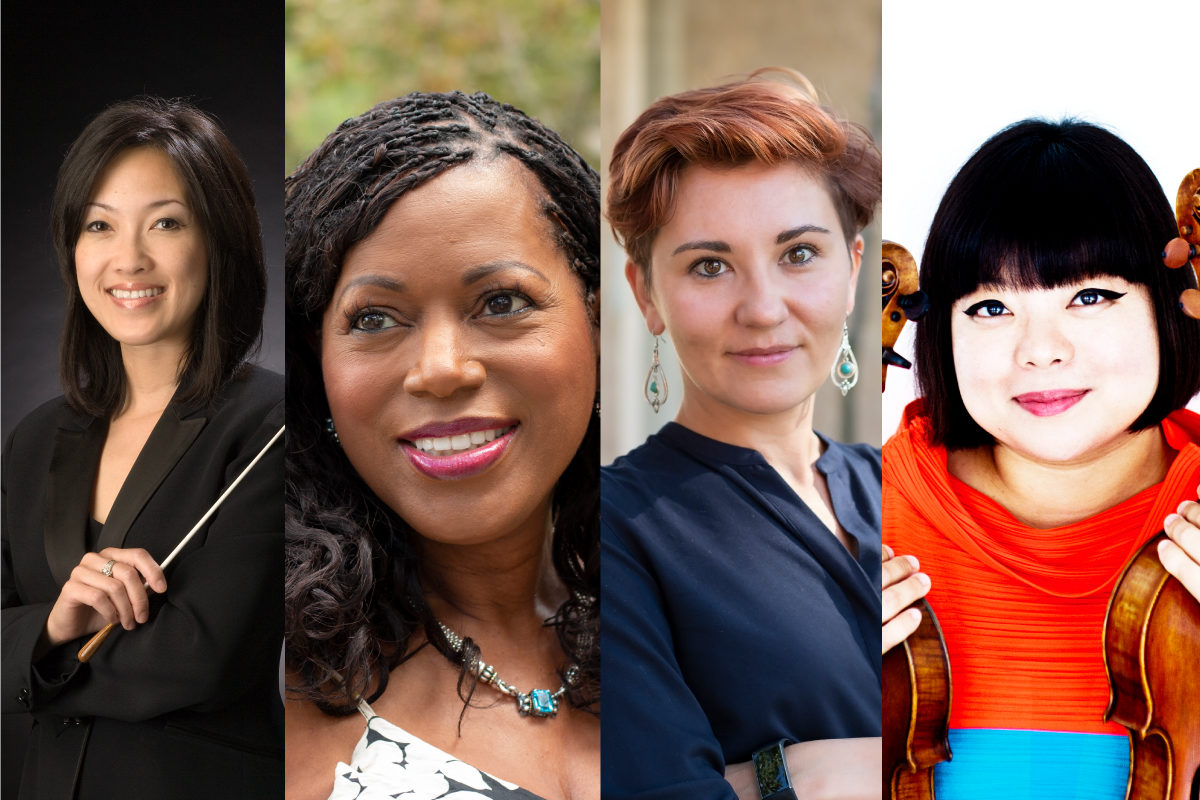 An Impressive Quartet of Faculty
Four exceptional artists have joined the USC Thornton faculty in Strings, Musical Theatre (a new collaborative degree with both Dramatic Arts and the Glorya Kaufman School of Dance), Choral and Sacred Music, and Composition.
Yura Lee is a double virtuoso who has racked up numerous prizes and honors in her 25-year career as a violist and violinist. Soprano Karen Parks is a Billboard chart-topper, Fulbright Scholar and Olivier Award nominee. Tram Sparks is a scholar with two decades of research in conducting pedagogy who works toward equity for future generations of women in choral music and conducting. Nina Young is an award-winning composer and sound artist who uses tech to push boundaries in new music.
While all four are women performing and creating at the top of their fields, they also feel a great sense of accomplishment from teaching and mentoring.
Yura Lee – Associate Professor of Practice, Viola
Over the next few years, Yura Lee plans to perform all twelve of Bach's sonatas, partitas, and suites. She'll perform the six Sonatas and Partitas for solo violin followed by the six Cello Suites on viola. It is a massive, amazing undertaking, but it's not unusual for Lee, who's a virtuoso on both instruments.
The list of her top prizes for both violin and viola is extensive. For example, Lee was the only first-prize winner (viola) awarded across four categories at the 2013 ARD International Music Competition. She also earned first prize and audience prize (violin) at the 2006 Leopold Mozart Competition in Germany.
But as faculty member at USC Thornton, she'll focus on the viola. "I am passionate about advancing and strengthening the art of viola playing — it is an instrument that is so close to my heart, and I find that there is so much still-untapped potential to be explored," Lee said. "With my students, the faculty and the school, my goal is to make a difference in this incredible world of viola playing."
Of course, if her performances and awards are any indication, she already has. Lee performs nationally and internationally with major orchestras such as the New York Philharmonic and the Tokyo Philharmonic and is a regular at chamber music festivals such as Salzburg and Verbier. She is currently a member of the Chamber Music Society of Lincoln Center and the Boston Chamber Music Society. The string musician is the recipient of an Avery Fisher Career Grant, and her CD, Mozart in Paris, received the Diapason d'Or Award in France.
"I have been lucky to have had incredible mentors, those who nurtured and guided me through the musical and personal challenges," Lee said. "Through meaningful guidance and much personal and musical searching, I've been fortunate to have had music as the main focus of my life for the last 30 years, 25 of them as a professional. I hope to share the joys and knowledge with the students, and help them find their voice in the world of music."
Some of her earliest successes are quite memorable. At age 12, she became the youngest artist ever to receive the Debut Artist of the Year prize at the "Performance Today" awards given by National Public Radio. At 15, she played the Tchaikovsky Violin Concerto with the National Symphony at Carnegie Hall.
But the quieter moments really resonate.
"What stays in my heart in the most saturated way, however, are the moments when I find true meaning and catharsis through music — playing the Schubert Cello Quintet with amazing colleagues, when you find that everything 'fits' right in the world," Lee explained, "or when I can foster excitement, discipline and creativity in my students, and see the sparks fly in their eyes and in their spirit. Those moments mean so much to my heart."
Karen Parks – Associate Professor of Practice, Musical Theatre
Soprano Karen Parks is a Billboard chart-topper, Fulbright Scholar and Olivier Award nominee. Her professional performance career began at age 13. Between her doctoral work in vocal pedagogy/performance and teaching vocal performance at a high level for more than 16 years, she understands the intense focus and hard work necessary to succeed.
In her approach to performing, teaching, and life, joy is the essential component. "After all, the voice is the only instrument not created by man," Parks said. "How can someone not enjoy a beautiful gift?"
Parks focuses on healthy technique, proper repertoire and authenticity in delivery. "It is amazing to witness the transformation that occurs when my students learn and understand healthy breathing and vocal technique for singing," she said. "When guided to select the correct repertoire, their vocal expressiveness comes through. This allows them to attain vocal refinement, which transforms their singing into true artistry."
Her career achievements include studying as a Fulbright scholar with Maestro Gabriele Pisani at La Scala in Milan, Italy and being nominated for an Olivier Award for her debut role in Carmen Jones on London's West End. Parks made her professional operatic debut with the San Francisco Opera and sang the leading role in Pagliacci for three seasons at the renowned castle's Opera Festival in Savonlinna, Finland.
However, she feels that her most meaningful professional accomplishment has been helping her students launch successful careers in many genres, including opera, popular music, jazz, and musical theater.
She's looking forward to continuing her mentorship of singers as a Trojan. "I was attracted to USC Thornton because of its stellar reputation in both academics and performing arts," she said. "With all of my voice students, my top priority is to teach them to sing in a healthy, sustainable and aesthetically pleasing manner. By helping them identify their strengths and cultivate their unique sound, I can equip students to be successful in their artistic pursuits."
Tram Sparks – Associate Professor of Practice, Choral and Sacred Music
For Tram Sparks, the highlight of her past six years at USC Thornton has been "teaching our talented, bright, dedicated and entrepreneurial Thornton students." First as an adjunct and now as associate professor of practice in the Choral and Sacred Music program, she looks forward to continuing "to work toward equity for future generations of women in choral music and conducting."
For the past two years, Sparks has served on Thornton's Diversity, Equity and Inclusion Committee. "I see my responsibility to be an advocate for women's voices not only within our Thornton community, but also for Thornton alumni and my former students from Temple University," she said. "Basically, the work never stops!"
Sparks explores the nuances of music direction in her research. "Based on my research and work in conducting pedagogy over the last two decades," she said, "I plan to create a text that is not a method, per se, but a work that shows the intersection between the ideological and the technical, and engages with movement studies (including the dance theory and technique of Martha Graham), philosophy of art (specifically, the work of Susanne K. Langer), and the poetics and rhetoric of choral music interpretation and performance."
She also has some personal goals this year. "It has been a dream of mine to learn to play jazz piano," she said. "I have trained and performed as a classical pianist for as long as I can remember, and now would love to explore the world of jazz." She also hopes to add another form of martial arts to her practice of self-defense. "I'm very interested in the dynamic movement, economy of motion, and discipline of the mind and body that are essential components in martial arts."
Sparks has put theory into practice as music director in churches and synagogues in Philadelphia and Los Angeles, and she has worked on projects with professional and community groups here as well. But she said her proudest accomplishment is "helping her students not only to make contributions to music, but also to become compassionate global citizens, promoting a more humane society through their art."
Nina Young – Assistant Professor, Composition
Nina Young is a composer and sound artist who aims to create sonic experiences that lead listeners into unexpected places. Her interests in engineering and technology help her to push the boundaries of what's possible in new music. In her role at Thornton, she's excited to see how far that can go.
"I think USC's Composition Department is one of the most exciting in the U.S," Young said. "The faculty members are so committed and extremely diverse in what they do. I think together we're going to be like the Avengers of new music."
An internationally acclaimed artist, Young's works have been presented by the National Gallery, the Whitney Museum and LA Phil's Next on Grand, among others. She is the recipient of numerous awards, including the Rome Prize and the Aspen Music Festival's Jacob Druckman Prize, and honors from BMI, IAWM and ASCAP/SEAMUS.
One of her most fascinating works is Out of whose womb came the ice, which was premiered by the American Composers Orchestra in its 2016-17 season. Written for baritone, orchestra, electronics and generative video, it commented on the ill-fated Ernest Shackleton Trans-Antarctic Expedition. She's currently expanding that work into a full song cycle in preparation for a Carnegie Hall premiere in April 2020.
In February of this season, Young's new orchestra work will be the first presented by the New York Philharmonic as part of their Project 19 commissioning project, celebrating the centennial of the 19th Amendment. At the same time, she's working with the American Brass Quintet to create an immersive installation-performance that envisions ritualistic environments of morphing, ephemeral, virtual architectural spaces (sonic and visual) incorporating EMPAC's unique wave field synthesis spatial audio system.
At Thornton, she will start a curricular initiative in computer and electronic music, beginning with a course in a visual-based coding language for interactive audio and visual elements. She will also outfit a laboratory studio space with high-end audio for student projects.
"Teaching is such a joyful experience," Young said. "I had amazing mentors throughout my entire life, and when I asked them how to say thank you, they said, 'you just have to do this for other people.'"
Never miss a story
Subscribe to USC Thornton's e-newsletter
Subscribe